Wanda's potential purchase of a minority stake in Paramount Pictures reinforces its interest in investing abroad as China's movie market shows signs of slowing, but an acquisition could be challenging because the American studio is facing legal issues, experts said.
Wanda, which acquired Legendary Pictures earlier this year for $3.5 billion and owns theater chain AMC Entertainment, is in talks to acquire 49 percent of Paramount.
The Chinese company could face competition in its bid, although Viacom's CEO Philippe Dauman has been exclusively negotiating with Wanda, according to the Los Angeles Times.
Viacom is the parent company of Paramount Pictures and is embroiled in a lawsuit with Sumner Redstone, controlling shareholder of Viacom, with Redstone not wanting to sell Paramount.
"There are a lot of legal hurdles right now, and [Wanda] is wading into challenges (on) succession and control of Paramount that have their own legal malaise," said Aynne Kokas, media professor at the University of Virginia. "So from that perspective, it's going to be a much longer road than their purchase of Legendary.
"I think it's interesting they're continuing to acquire the stake, and it points to an appetite for investment outside of China, drawing attention to the fact that the Chinese market is potentially softening," she said.
Chinese box office revenue fell in the second quarter for the first time in five years despite the industry coming off a record-breaking first quarter with the release of Stephen Chow's The Mermaid, which made $553 million.
Second-quarter revenue fell by 4.6 percent, with ticket sales totaling $1.51 billion, down from$1.58 billion in the same period last year, according to figures from EntGroup Inc.
The government also has lifted the ban on summertime Hollywood blockbusters, which have traditionally been precluded from release during the season over "regulatory fears over the Chinese box office softening", Kokas said.
In June, Wanda announced that AMC Entertainment acquired Europe's largest movie chain Odeon and UCI Cinemas Group for $650 million. Wanda purchased Hoyts Group in Australia, another cinema chain, for $344 million last year.
"Wanda continuing to buy outside of China as opposed to investing in their domestic businesses points to concern on their side," Kokas said.
Marc Ganis, president of distribution company Jiaflix, said that industry watchers believe the price and the terms of the deal would have to be "extraordinary" for it to be acceptable to the parties that do not want to sell Paramount Pictures.
"It'll either happen in this iteration or it won't happen - this is a serious effort by a company that has been spending a serious amount of company around the world, that has global aspirations. This is a rare opportunity to be able to buy such a large share of one of the legacy studios," he said.
Ganis said that high valuations within China make it much more expensive for companies to purchase major Chinese enterprises, making diversifying abroad more attractive.
The acquisition of AMC and Legendary does not seem to have made a major difference in the way the two companies have been run.
AMC CEO Adam Aron called Wanda a "dream boss" for being hands-off and letting the company operate as it prefers, while providing capital.
"It's very different what occurs within in China and what occurs outside of China," Ganis said.
Using Legendary as an example, Ganis said that Wanda's stake in Paramount might not have a huge impact on its main strategies.
amyhe@chinadailyusa.com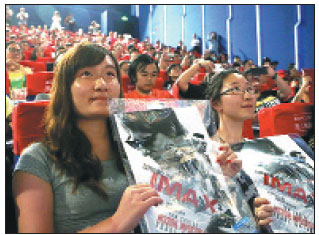 Fans at the screening of Mission: Impossible Rogue Nation in Chengdu, capital of Sichuan province. Provided To China Daily