Water sports drive swimwear sales
In the 'conservative' China market, makers swear by practical designs for indoor swimming activities
China's newly found passion for water sports is driving the swimwear market in the country. Most local and foreign manufacturers are focusing on practical designs for indoor swimming.
Speedo, based in the United Kingdom, started selling its products in China more than 16 years ago. It notes that the market for swimwear has been quickly developing, thanks to an increasing interest in health and fitness.
The company has a presence in 50 cities across China. It says the government's policies supporting the construction of swimming pools and high-end fitness clubs with pools are driving growth in the market.
"The demand has evolved from low-priced durable products to high-quality branded goods with functions and technology that provide an enjoyable swim experience," said Roger Mao, Speedo's marketing manager in China.
The most notable market trends involve Chinese customers enquiring about products used by international athletes but adapted to their local needs.
"We have 'Asian-fit' goggles and swimwear tailored for Asian bodies, and other products that are designed specifically for Chinese consumers," said Mao. "Young female consumers are also looking for cooler sporty-looking swimwear, compared to the girly cute styles they preferred in the past."
Looking ahead, the company expects to benefit from rising disposable incomes in China as more Chinese consumers are willing to invest a greater part of their earnings in leisure activities and professional products.
"We believe the market will keep growing," said Mao. "Chinese consumers will be more selective. They will demand premium products and value would be more important than price."
The Chinese swimwear market is expected to achieve an annual average growth of 20 percent from 2015 to 2020, according to market consultancy firm Frost and Sullivan.
In 2015, the swimwear market in China saw sales of over 4 billion yuan ($601.3 million), boosted by the spread of swimming activities to more locations such as community centers, fitness gyms and seaside resorts, said Frost and Sullivan.
Neil Wang, global partner and China president at Frost and Sullivan, said the swimwear market is still very fragmented in China, with a large number of unbranded small players, a sign that the market still needs to develop further.
"However, as the industry continues to mature, the small players with backward technology and equipment are likely to exit in the future," said Wang. "The branded local players with healthy performance on the market are expected to largely take up their share due to a comparatively similar pricing."
Hong Kong-listed sports health company Hosa Group, which started selling swimwear in the country 20 years ago through department stores, warns that intense competition in this segment is growing online.
"With the increasing penetration of internet and e-commerce, the competitive landscape of swimwear has changed," said William Liu, chief financial officer at Hosa. "Many new brands have sprung up in the past few years that sell online, offering lower prices and targeting the mass market."
The company, one of the leading local players with 1,000 privately-owned stores across China, particularly in the first- and second-tier cities, felt compelled to open an authorized e-store through a distributor, to take on online competitors.
Nonetheless, the company notes most customers still prefer to purchase its goods from physical stores, and only 7 percent of its sales last year were from online channels.
In 2015, Hosa generated 1.17 billion yuan in revenue, of which swimwear accounted for 46.5 percent.
Swedish clothing retailer Hennes & Mauritz AB, which has been selling swimwear products to Chinese customers since 2007, agrees that the market in China is currently driven by the practical needs of consumers.
"Chinese customers are relatively conservative and they are more function-driven," said Stella Zhou, a spokesperson for H&M. "Therefore, we have more one-piece suits in China for female customers."
Nowadays, around 60 H&M stores sell swimwear in China, mainly in Beijing, Shanghai, Guangzhou and Shenzhen. The company's brands COS and Monki have also started distributing swimwear products recently.
Looking ahead, H&M notes that swimming has become a popular form of physical exercise, even a recreational activity in China and will keep driving a healthy demand for swimwear products.
emmagonzalez@chinadaily.com.cn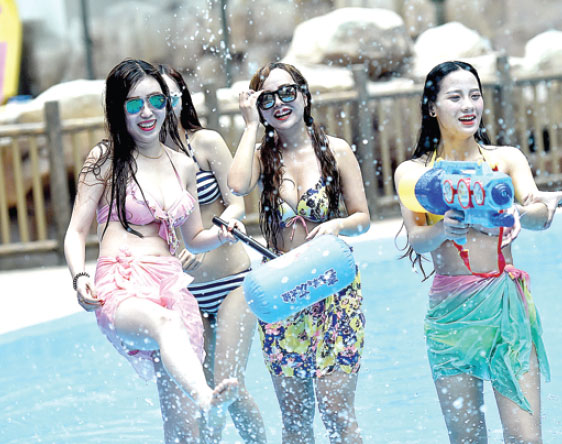 The first group of revellers have fun at an indoor water amusement park in Hefei, Anhui province, in April. Provided to China Daily