Animals run for freedom during flood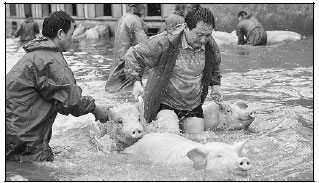 Rescuers transfer hogs that were stranded at a pig farm in Anhui province on Tuesday. Chen Li / For China Daily
Heavy floods have affected not only people in the central and southern provinces but also the animals.
More than 6,000 hogs were stranded by floodwaters at a pig farm in Shucheng county, Anhui province. When rescuers arrived at the farm on Tuesday, the pigs had been trapped in inundated pens for more than 20 hours.
Li Xiaobo, the farm's manager, said that more than 2,000 pigs had been rescued by Thursday night, while some were butchered on site because transportation was inconvenient and there are not enough places to accommodate them all.
In Zhenjiang, Jiangsu province, a local duck breeder sought help from traffic police on Wednesday as his shed that accommodated more than 6,000 ducks was flooded. Police officers worked late into the night to help him recover the ducks.
Dozens of alligators raised on a farm in Wuhu county, Anhui, escaped from a fenced-in swamp, after floodwaters climbed 50 cm above the wire netting that held them back.
"We have 92 alligators, and dozens of them have escaped to nearby farmland that is still inundated," said a manager surnamed Tao.
The reptiles, all endangered Yangtze alligators, which are smaller and not as aggressive as other species. So far, only five crocodiles have been retrieved. Tao said capturing them all will take a few more days.
An aquaculture operation in Huangshi, Hubei province, reported that lobsters, crabs and fish escaped from the flooded farm. Managers estimated a loss of at least 3 million yuan ($448,800), local media reported.
In Suzhou, Jiangsu province, the level of Taihu Lake had risen so much recently that a fence at another aquaculture operation was submerged, and many crabs and fish have fled, according to Jiangsu-based Xinhua Daily.
zhulixin@chinadaily.com.cn