US to probe killing by police in Louisiana
The US Justice Department launched a civil rights investigation on Wednesday into the video-recorded killing of a black man who was shot as he scuffled with two white police officers on the pavement outside a convenience store in Baton Rouge, Louisiana.
A law enforcement official said a gun was taken from 37-year-old Alton Sterling after he was killed early Tuesday in the parking lot where he regularly sold homemade music CDs from a folding table. The official was not authorized to discuss the investigation and spoke on condition of anonymity.
It was not clear from the murky cellphone footage whether Sterling had the gun in his hand or was reaching for it when he was shot. A witness said he saw police pull a gun from Sterling's pocket after the shooting.
The shooting in the Louisiana capital- and shocking videos that found their way all over the internet - set off angry protests in the city's black community and brought calls for an outside investigation.
It came at a time when law enforcement officers across the country are under close scrutiny over what some see as indiscriminate use of deadly force against blacks.
Moving quickly just one day after the shooting, Governor John Bel Edwards asked the Justice Department to take the lead in the investigation.
"I have very serious concerns. The video is disturbing, to say the least," the Democratic governor said at a news conference.
Edwards also met with black community leaders to reassure them about the investigation and to ask their help in keeping protests peaceful. He expressed hope that once the community sees that the shooting is "going to be investigated impartially, professionally and thoroughly" by the Justice Department, "the tensions will ease".
Baton Rouge Police Chief Carl Dabadie Jr. said that Sterling was armed - Dabadie didn't specify the type of weapon - but that there are still questions about what happened.
"Like you, there is a lot that we do not understand. And at this point, like you, I am demanding answers," Dabadie said, calling the shooting a "horrible tragedy".
Sterling was confronted by police after an anonymous caller reported being threatened by someone with a gun outside the store, authorities said.
In the cellphone video taken by a community activist and posted online, one of the officers tackled Sterling, and both pinned him down.
Someone yelled, "He's got a gun! Gun!" and one officer pulled his weapon from his holster. After some shouting, what sounded like a gunshot could be heard. The camera pulled away before more shots were heard.
The officers, identified by the chief as Blane Salamoni, a four-year member of the department, and Howie Lake II, who has been on the force for three years, were placed on administrative leave, standard department procedure.
Lake was involved in another police shooting in December 2014. He told detectives investigating that shooting that he fired six or seven times when a suspect refused to drop his gun, threatened to kill himself and pointed his revolver at officers. The man was wounded by police.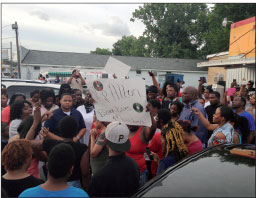 People protest after Alton Sterling, 37, was shot and killed during an altercation with two Baton Rouge police offi cers in Baton Rouge, Louisiana on Tuesday. Bryn Stole / Reuters