African visitors harvest ideas for agriculture
Group sees firsthand how China has helped its farmers and planted the seeds of future success
A rich harvest of information awaited a group of African visitors earlier this month as they walked through village fields, watching Chinese farmers feed their pigs and trying out the latest in farming machinery.
The visitors, all agricultural officials, were on a field trip, literally, in the countryside of the eastern province of Anhui.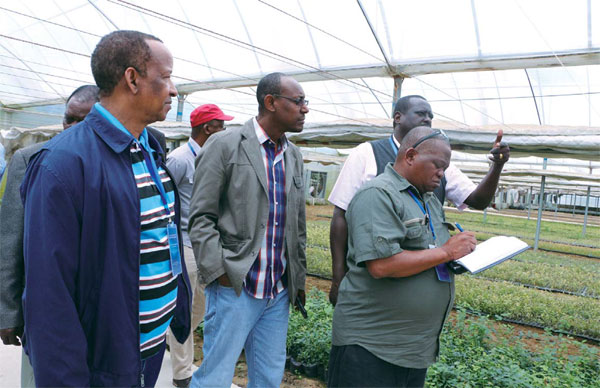 Agricultural officials from Kenya, Mozambique and Zimbabwe visit a greenhouse in a village in East China's Anhui province. Photos by Yan Dongjie / China Daily
There, they saw how agriculture has developed in China over the past 40 years, an experience that helped plant seeds of knowledge, according to the visitors, who came from Kenya, Zimbabwe and Mozambique.
"What is fast in China is not only the bullet train, which impressed with its speeds of more than 300 kilometers an hour, but also the development of agriculture," says Abdoulaye Balde, representative and country director of the World Food Program in Mozambique.
The 2016 WFP China South-South Cooperation Guided Tour, which was co-organized by the WFP China Office and the Ministry of Agriculture's International Cooperation Department, took in Xiaogang village, the birthplace of China's rural reform in the late 1980s; a plant run by Zoomlion Heavy Machinery Co Ltd, which makes agricultural machinery; and Nanjing Agricultural University in Jiangsu province.
The goal was to examine what went before to provide a vision for tomorrow. By giving agricultural policymakers from Africa a close view of China's past, present and future, and its success in eliminating poverty and hunger, as well as technological innovation, the group could plant new ideas for the continent's development.
"China's experience in overcoming challenges, building resilience, mitigating risk and accelerating development can help other nations to design pathways for their own sustainable development," says Qu Sixi, the WFP China representative.
As a part of the United Nations, the WFP is the largest voluntarily funded humanitarian agency fighting global hunger. It delivers food assistance in emergencies and works with communities to improve nutrition.
Each year, the organization helps 80 million people in about 80 countries. It ran large-scale food assistance projects in China between 1979 and 2005.
"China has lifted 700 million people out of hunger since 1978, and today I'm glad to see that China has become a partner to WFP's activities in other parts of the world," Qu says.
The average arable land per person in China is 0.078 hectares, 40 percent of the world average, while the average amount of fresh water per person is one-fourth the global average. Despite this, in 2012, China had a per capita availability of grain of more than 430 kilograms, a 34 percent increase on 1980.
"Now, China would like to share its experience and technology with other developing countries," says Yu Kangzhen, the country's vice-minister of agriculture.
Other sights that drew the visiting group's attention, too. When they entered Linqiao village in Anhui province, they saw rows of two-story townhouses, cars in garages, local factories producing drinks and other products with locally grown crops, and museums and lavender farms.
"Why do you call these places villages? I see nothing like a village. It's absolutely a town, or even a small city," says Olegario Banze, Mozambique's national director of rural development.
"We can see the well-organized villages and farmland, the great input, the push of mechanization, and efforts in tackling poverty. But the farmers could not have done this by themselves."
What intrigued him was the role of the government. How much of a hands-on policy did it adopt, he asked.
The answer was highlighted in the pig farms of nearby Lianhua village, the group's first stop. Here, the local government constructed the facilities and brought in expertise, while the farmers, at least initially, contributed their labor.
Lianhua is a typical village in Anhui's Bengbu city, and far from wealthy. But now about 20 farmers, whose annual incomes used to be lower than the national poverty line of 2,300 yuan ($350; 309 euros), are working on the pig farm, earning not only bigger salaries, but also a year-end bonus.
It is this kind of cooperation - government involvement at first and then letting the farmers get on with their work - that impressed the group.
"African countries should do similar things, and governments should take a role. It's hard to copy, but Africa can find a point to start with," Banze says.
He adds that by learning from China's experience African governments should transfer idle land into useful soil, teach farmers to grow crops better, push mechanization, and build facilities such as roads and railways.
Balde, with the WFP Mozambique office, also reflected on the challenges, and says his country has many competing demands.
However, Banze believes a start can be made. He says Mozambique has a population of about 25 million, 68 percent of whom live in rural areas, and 90 percent of the national territory is rural.
China has implemented a number of agricultural cooperation projects in Africa. More than 20 agricultural technology demonstration centers have been established, 150 specialists have been sent to Africa, and more than 3,000 African agricultural officials and technicians have been trained in China, according to the WFP.
Cooperation is also growing in fields other than agriculture. "If you think about opening factories in Kenya, I promise on behalf of the government that we'll provide land and labor, and will welcome you to settle in Kenya," Richard Leresian Lesiyampe, permanent secretary of Kenya's Ministry of Agriculture, said when the delegation visited the Zoomlion plant in Wuhu city.
In Kenya, 80 percent of the population lives in rural areas, and more than 80 percent of the land is arid or semi-arid.
It means more than 40 percent of people live below the poverty line of $1 a day, according Lesiyampe, who adds that Kenya is willing to cooperate with Chinese companies and that Kenya can start importing agricultural machinery.
"Our government will also offer subsidies - let's say, 30 percent of the machine's price - so that farmers can afford to start with mechanization," he says.
Zoomlion, the largest construction machinery maker in China, produces and exports tractors, harvesters and irrigation equipment.
"Zoomlion is cooperating with more than 60 countries and regions, mainly in Southeast Asia. We'd love to come to Africa with what you need," Wang Jinfu, president of Zoomlion, told the delegation.
It could be fertile ground for all concerned.
yandongjie@chinadaily.com.cn