Call for push on artificial intelligence
Accenture's technology R&D head urges China to scale up pilots of smart machines at home and abroad
China should step up efforts to adopt artificial intelligence in industry to boost the country's economic transformation, according to French technology expert Marc Carrel-Billiard.
The development of artificial intelligence is a hot topic in China, he says, especially since the central government unveiled the Made in China 2025 strategy, which largely aims to upgrade the manufacturing industry with high technology over the next decade.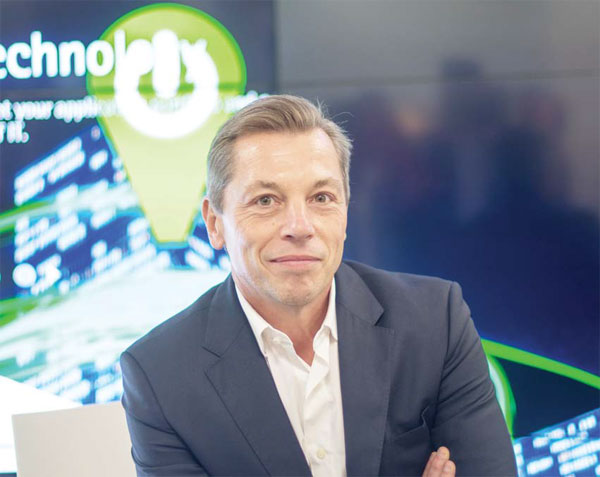 Marc Carrel-Billiard believes mass introduction of AI robots and systems will result in a new industrial revolution. Provided to China Daily
AI refers to machines or systems that can understand, learn and act independently, allowing them to take on cognitive functions otherwise performed by a human, such as problem-solving.
Carrel-Billiard says such technology is important due to the shift toward greater connectivity, either through cloud computing or smart networks.
While pilot projects may have been launched nationwide, Carrel-Billiard, global managing director of technology research and development for Accenture, a leading global consulting and professional services company, believes most are not being done on a large enough scale.
His company surveyed 512 technicians, engineers, executives and human resource managers in North America, Western Europe and Asia in December. Of the respondents from China, 73 percent said their enterprises are trying out some form of AI.
"But only 20 percent right now are doing it on a big scale. If they do not try to do it on a big scale, it will not be successful," says Carrel-Billiard, who explained that only through scaling up is it possible to put the technology into daily use and ensure the desired effect on a business.
The Chinese government has introduced policies to encourage businesses to trial AI technology, but he says the next step has to be incentives to scale up pilot programs - and not only in China.
By running trials in overseas operations, he adds, Chinese companies can have a greater influence on global markets and can build world-class brands.
"The country needs to export its know-how. A lot of good stuff is made in China but is not known outside its boundaries," he says, citing as examples such as Alipay, the online payment platform run by Alibaba Holding Group, and the social media app WeChat. "If these things can be exported, that would be fantastic."
China has amazing power when it comes to making things, he says, but the perception overseas is still of a country that mass produces cheap goods.
However, he feels this is changing, as many companies are now able to make their mark outside China. One such company is DJI Technology of Shenzhen set up in 2006, which is leading the way in advanced drones.
"AI can help (companies) to automate more tasks, to achieve more high-value manufacturing. It can also help companies not only with achieving mass production, but also mass customization," which means high output while also meeting individual consumer demands.
One enterprise trying out mass customization is Red Collar, a Chinese menswear manufacturer. By using AI, he says, the company can mass-produce suits that are tailored to multiple buyers' choices in design, fabric and color.
"This is amazing, and it is the kind of capability that China should leverage. AI is not only about machine learning; it is also good for analytics, and for smart ways of thinking about business and manufacturing processes. It is more flexible, and you can basically embrace more opportunities."
Although a lot is spoken about the machines, at the heart of AI development are the people, Carrel-Billiard says.
Machines are there ultimately to enable human workers to do their jobs more efficiently, not replace them, he says, while the greater connectivity that AI promises to create will enable the best minds around the world to work together and solve local and global problems.
"By connecting people, you do fantastic stuff. It is especially great to connect new generations with older generations, to have them transfer knowledge and collaborate.
"For us, AI must be applied to research that has a business focus. It has the potential to help solve some big problems, such as how to cure cancer. But it needs to put people at the center of the discussion. We do AI to make people's lives better, to make their work more interesting, even change the way they work."
Accenture's research suggests Chinese companies are steadily creating environments in which humans and machines work together, as they expect this to drive new value. According to the company's survey, 56 percent of respondents from China predict AI will boost productivity, while 43 percent expect increased operational efficiency and 37 percent expect enhanced safety and risk management.
Along with Made in China 2025, other nations have also introduced strategies to upgrade their manufacturing sectors, most notably Germany with its Industry 4.0 plan.
Artificial intelligence will play a major part in each plan, according to Carrel-Billiard. "AI can help bridge cultures," he says, suggesting one example would be a system that can perform simultaneous translation during negotiations between executives from different countries.
"You could have a German person talking (in German) with a Chinese person (talking Mandarin) and the translation will be done on the fly."
He also believes that rather than causing unemployment, the mass introduction of AI robots and systems would result in a new industrial revolution that creates jobs while changing the way people work.
Even in an entirely automated factory, thousands of workers will still be needed to maintain, evaluate and program the machinery, he argues, although he acknowledges that training will need to be upgraded along with the technology to ensure the cultivation of high-skilled workers.
He said universities in the United States are already introducing AI in the classroom to aid teachers.
For example, Arizona State University is testing adaptive learning bots that cover introductory elements for select courses, allowing instructors to focus more on student support, and produce analytics that identify students at risk of falling behind. Early indications show pass rates are rising, according to Accenture.
"If you look at one specific industry, AI will reduce jobs, but if you look (at the big picture) you will see that it will create job opportunities," added Carrel-Billiard.
"We need to train the workers to use AI to help them require the necessary skills faster.
"We do not want to build superhumans; we want to make humans super (at their job)."
Contact the writers through chenyingqun@chinadaily.com.cn