Mega city takes the lead in push for startups
As a mega city in western China, Chengdu is one of the most dynamic cities in China and is favored by a growing number of high-tech companies, investors and top professionals.
In February 2015, the city launched the Venture Tianfu Project, which aims to attract 200,000 technological entrepreneurs and 100,000 technology companies by 2020, making Chengdu a world-class innovation and entrepreneurship center.
Jingronghui, a key program under the Venture Tianfu Project, opened early this year. A series of activities of Jingronghui have been held, serving as a communication platform for innovators, investors and entrepreneurs.
During the latest Jingronghui activity held in Chengdu's Jinjiang district on June 17, Beijing-based A plus Labs launched its Smart Fund and Smart Works in Chengdu with the aim of providing intelligent hardware startups in western China with "funds plus in-depth services".
Sheng Xitai, the founder of Angel Plus, said the Smart Fund is the world's first angel fund focused on hardware startups. The fund in Chengdu is worth 100 million yuan ($15 million).
Smart Works in Chengdu covers 2,500 square meters and offers hardware startups in-depth services from research and development of products to manufacturing and marketing, said Qiao Huijun, the founder of Smart Works.
A plus Labs is scheduled to finish its global layout in one year, with 11 Smart Fund and 11 Smart Works around the world. The incubators will serve 500 to 700 startup teams every year, of which 30 percent are expected to grow into middle-sized enterprises. Those enterprises will then be moved into the Smart Center for further development.
The first Smart Center was launched last Friday at the Jingronghui activity in Jinjiang district. It covers 60,000 square meters and has a total investment of 500 million yuan.
"We chose Chengdu because of its solid foundation in the IT industry, which leads the field in the country. And the universities, such as the University of Electronic Science and Technology of China, provide plenty of talented people," Sheng said.
Qiao said Chengdu is one of the most important cities in China in terms of innovation and entrepreneurship .
"Chengdu is far-sighted and pay great attention to innovation and entrepreneurship," he said.
Qiao said his company will consider Chengdu first if and when it introduces programs from overseas or other provinces in China.
"The comfortable living environment, relatively low living cost and house prices make the city a perfect place for startups," he said, adding that many of his friends had moved to Chengdu from Beijing and other key cities.
"We will help to make the city a new label for global innovation," he said.
Chengdu held more than 160 Jingronghui activities in 2015, drawing 400,000 people. Those who presented their new projects and ideas gained a total of 10 billion yuan in investment, according to Chengdu Science and Technology Bureau.
Promotional activities
To attract more talented professionals from other cities, key universities and overseas to set up businesses and engage in research and development work in Chengdu, on May 14 the city launched a series of Venture Tianfu pro-innovation activities.
The first stop in the series was in Shenzhen, in South China's Guangdong province.
About 1,000 professionals attended the activity. At the venue, 20 people signed work contracts with employers from Chengdu.
The city also secured five agreements with partners from Shenzhen to set up new ventures in Chengdu.
Zou Xueming, founder and chairman of AllTech Medical Systems, and Ji Jianxin, executive vice-president of Chengdu Diao Group, shared their experiences of working in Chengdu.
Zou was vice-president of General Electric Healthcare and general manager of its magnetic resonance division in Greater China, but he returned to China in 2005 and founded AllTech Medical Systems in Chengdu Hi-Tech Industrial Development Zone.
The company developed China's first 1.5-tesla superconducting MRI system with independent intellectual property rights, breaking the monopoly held by Siemens, GE and Philips in China.
Zou said the city government has given his company strong support in funding, policies and market access. "As far as I know, Chengdu's latest talent-hunting policy is more attractive and innovative. I hope more people can come to Chengdu to realize their dreams," he said.
Ji, who came to Chengdu in 2008, said the city has as much culture as Beijing, as much wealth as Shanghai, and the down-to-earth spirit of Shenzhen. "It is an efficient, inclusive and innovative city," he said.
Cheng Yi, who obtained his doctorate from the University of Glasgow in the United Kingdom and is an expert in artificial intelligence, signed an employment contract with Chengdu-based Artigent Robot Intelligent Equipment Company at the event.
As well as its excellent lifestyle and natural environment, Chengdu, Cheng said, attracted him with its talent policy, institutes and pro-innovation.
To make the city a top choice for talented professionals to develop new ideas or start businesses in western China, Chengdu announced on Feb 14 that it had adopted 10 new policies and would establish a fund of up to 2 billion yuan.
For Nobel Prize laureates who launch startups in Chengdu, the financial aid could reach as much as 50 million yuan. Up to 100 million yuan could be granted to a research team.
The new policies stress that the fund is for both international and domestic talent.
By the end of last year, Chengdu had recruited 34 academicians and 169 national-level experts through China's 1,000 Talents Project. Those figures lead the nation.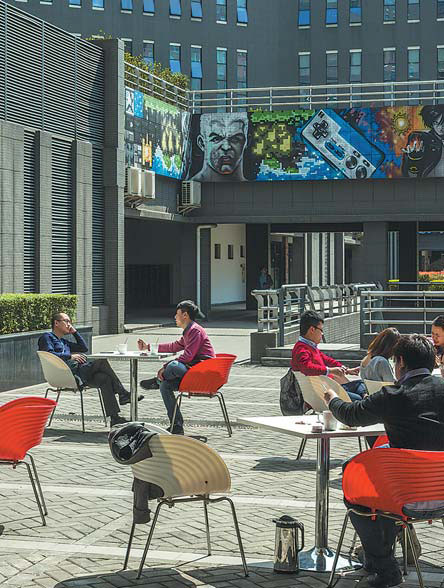 A view at the Entrepreneurship Squarem, an incubator for startups at Tianfu Software Park in Chengdu High-Tech Zone. Chengdu.