Online shopping can mean more than a splurge but also generous help for handicapped people in China, thanks to a project launched by Chinese e-commerce major JD.com Inc.
Nasdaq-listed JD teamed up recently with a Beijing-based charity organization, launching a virtual store that allows online shoppers to buy directly from the handicapped.
The online store, which is the first of its kind in China, uses an innovative model of "internet plus public welfare" to make doing good deeds much simpler and more convenient.
Li Xi, vice-president of JD, said via the power of internet, the company hopes to encourage all of society to help handicapped people.
According to the Beijing-based JD, the online shop named Mengwuque, which can be directly translated into "dream without drawbacks", has already launched more than 1,000 items online.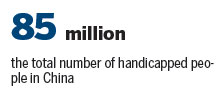 Most of the items are products made by handicapped people, including some exquisite embroidery work done by people who were badly injured in the Wenchuan earthquake in Sichuan province in 2008.
Dream One, the charitable organization that partnered with JD in the online store, has high hopes for the innovative effort.
Xu Yongguang, a co-founder of Dream One, described the innovative effort with JD as "cross-industry cooperation" in the internet era.
"Through turning consumption into charity, the project can bring a win-win result for both commerce and charity," he said.
The latest statistics showed that China has a total of 85 million handicapped people. Many of them face challenges in getting jobs, leading to the low income for their families.
"But most of them never give up their hopes in life and they want to fulfill their own value through their own effort," said Xu.
Xin Lijun, vice-president of JD, said he hopes the e-commerce company can provide a trustworthy platform for handicapped people to showcase and sell their crafts and help their dreams come true.
mengjing@chinadaily.com.cn