Rise in telecom fraud rings alarm bells
Telephone scams are a growing problem in China, with even financial experts falling prey to sophisticated schemes. For some victims, though, the consequences are far more severe than a simple monetary loss, as Zhang Yi reports.
Last month, Fan Yin-gui hanged himself in a residential building in Qin'an county, Gansu province. He left no suicide note, just a cryptic messages crawled in dust at the scene: "My death has nothing to do with my wife, it is about swindlers."
The day before Fan took his own life, the 44-year-old received a bogus phone call, supposedly from the police, which led him to transfer 230,000 yuan ($35,000) to a fake bank account set up under the name of the Supreme People's Procuratorate.
The money represented all of Fan's savings. The member of the logistics department at Xichuan Middle School in Qin'an had planned to use the funds to buy an apartment for his family.

According to his wife, Feng Xiangxiang, Fan was told he was being targeted by the police in connection with a money-laundering case and he was threatened with arrest if he refused to cooperate with the investigation.
"On May 9, after a 60-minute discussion on the phone, he left home with his ID card and a bank card. He ignored me when I asked him where he was headed," Feng said. "When he returned home the next morning, he told me he had been swindled out of all our savings."
Fan's death was one of a series of suicides linked with telecom frauds that have attracted national attention since the beginning of the year.

Rich pickings
Last year, a series of telecom frauds nationwide netted 22.2 billion yuan. Half the money flowed into bank accounts in Taiwan, and so far only a fraction of the total amount has been recovered, leaving many families destitute.
Even financial professionals are not immune to the fraudsters' ploys, which have resulted in large losses of government funds.
In April, police in Guizhou province broke up China's biggest single case of telecom fraud, in which 117 million yuan of public money was taken from the construction bureau of the Economic Development Zone in Duyun city.
The bureau's finance supervisor, surnamed Yang, was contacted by several callers who claimed either to be officers at a police station in the Songjiang district of Shanghai or staff at the headquarters of the Agricultural Bank of China. Yang was told the bank account she managed needed to be reviewed, and she was instructed to download software from a website that would provide the callers with access to the bureau's finances.
Fake calls such as these are not a novelty, but many people remain ignorant about the serious consequences of revealing information to unidentified callers.
Overseas operations
Nearly 600,000 similar cases were cracked in China last year, but the problem is becoming more widespread. "The number of similar crimes has continued to rise since the beginning of this year," said Chen Shiqu, a deputy inspect or at the criminal investigation bureau at the Public Security Ministry.
According to Chen, a mere 200,000 yuan has been recovered in recent years. In most of the frauds, criminals from Taiwan set up bases in countries such as Malaysia, Uganda and Turkey and then hired mainlanders to play different roles in the deception.
Unlike the duplicitous methods employed by criminals in recent years, such as calling people and asking them to provide details that allow them to claim a "prize" in a false lottery, the procedure has become more complex and usually begins with a phone call: "The police department wishes to inform you that your bank account has been compromised. An officer will contact you shortly to assist you in freezing your account."
Initially, neither Fan nor Yang believed the phone calls, but when a check with the national registry system showed the numbers matched those of genuine police stations, they were convinced of their authenticity. Following the phone call, Fan was sent a document, purportedly from the top procuratorate, that showed his bank account had been frozen. The document included detailed information, including Fan's ID number, which added more credence to the story.
Likewise, Yang received a criminal investigation warrant and a freezing order, both of which carried red government stamps. The documents played crucial roles in convincing Fan and Yang of the authenticity of the calls, and they quickly began to worry about the money they had placed in banks.
Zhou Haihong, one of the officers in charge of Yang's case, said the police recovered the numbers of calls made to Yang's cellphone and traced them to automatic-dialing software on a computer server in Uganda, where the fraudsters were based.
After the software changed the caller ID, Yang's phone displayed a number selected by the swindlers.
The same server has been linked to bogus phone calls to other victims, including two people in Zhejiang province, who were swindled out of a combined 2.7 million yuan in January.
Police discovered that the gang was well-organized. One of the masterminds, surnamed Chen, from Taiwan rented computer servers from a mainland company and hired operators from the mainland, who were contracted on a basic wage, received bonuses on profits and received training before being sent overseas.
The police also detained dealers who sold private information to the gang. Officers recovered nearly 200 ID cards, 43 bank cards and disks containing personal information related to 155,000 senior managers of financial institutions and government employees. Personal driver details were also stolen from traffic bureaus.
In April, 62 alleged members of the ring that had been operating in Uganda, including 10 from Taiwan, were brought back to the Chinese mainland. The gang, which is alleged to have been involved in more than 180 cases targeting Chinese nationals in 26 provinces, is still being investigated.
In March, police from Malaysia and the Chinese mainland cooperated in an investigation into five cases of international telecom fraud. They arrested 117 suspects, 65 from the mainland and 52 from Taiwan. Twenty Taiwan residents were handed over to Taiwan authorities by Malaysian police on April 15, while the others were repatriated to the mainland at the end of April.
Also in April, Kenyan police deported 77 suspected telecom fraudsters, including 45 from Taiwan, from two other syndicates to the Chinese mainland. On May 31, 82 suspects, including 52 from Taiwan, were arrested in Izmir in western Turkey on fraud charges.
Legal differences
However, differences in judicial procedures between the Chinese mainland and Taiwan resulted in a number of suspects being released immediately upon arrival in Taiwan, while others were given lenient sentences.
In August 2013, a man called Lin Minghao and 20 other leading members of a gang detained in Cambodia by the Beijing police were sent back to Taiwan. Two years later, they were detained again for alleged involvement in telecom frauds in Indonesia, Cambodia and Australia.
However, while people convicted of telecom fraud in the Chinese mainland can face a life sentence, the maximum sentence in Taiwan is just five years, according to FanChongyi, a professor of law at the China University of Political Science and Law in Beijing.
At present, Taiwan's criminal law has no specific provisions to target telecom fraud, he said, adding that he hoped the legislation would soon be revised and strengthened.
Twenty of the suspects from Taiwan deported from Malaysia were handed over to the island's judicial authorities, but were released immediately. Officials in Taiwan defended the move, saying the evidence is not being held in Taiwan but is in the hands of the mainland police, and they will talk with their mainland counterparts about opening an investigation into the fraud.
Xu, a 37-year-old Taiwan resident who police only refer to by his surname, was repatriated from Kenya in April. He confessed that it is common knowledge among gang members that fraud suspects detained overseas are usually deported to Taiwan, where they will either be acquitted or given light sentences.
In 2010, Xu was sentenced to seven months in prison, but after his release he was recruited for the operation in Kenya in July 2014 while on a bogus business visit arranged by criminal gangs in Taiwan.
Xu, who is now being held in a detention center in the Haidian district of Beijing, said he would not have joined the gang in Kenya if he had known he would be deported to the mainland rather than Taiwan.
On May 13, Chen Wen-chi, head of a 12-strong delegation of senior officials from Taiwan's police and judiciary who visited suspects from Taiwan detained in the mainland, said officials in Taiwan will make concerted efforts with the mainland to recover the stolen funds.
Prosecutors and investigators with the delegation discussed the cases with their mainland counterparts in the hope of finding away to jointly examine the cases and guarantee the rights of the accused.
"Fifteen suspects have requested legal assistance and five have hired lawyers," said Li Hongping, deputy head of the Public Security Bureau in Zhuhai, Guangdong province, where 32 Taiwan residents are being detained.
Chen Shiqu, the Public Security Ministry inspector, said 77 suspected members of telecom fraud syndicates deported from Kenya will be tried on the mainland, and 32 suspects from Taiwan deported to the mainland from Malaysia have confessed to their crimes.
"The suspects specifically targeted people on the Chinese mainland. Their victims are from the mainland. They will be investigated and prosecuted in accordance with the laws of the mainland," he said.
Contact the writer at zhang_yi@chinadaily.com.cn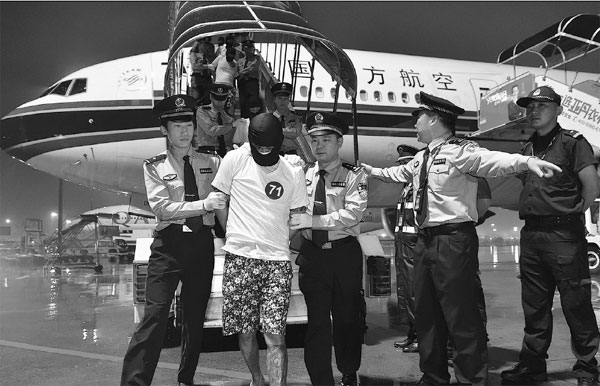 Suspected telecom fraudsters are escorted from an aircraft by police at Guangzhou Baiyun International Airport in Guangzhou, Guangdong province, on April 30. Ninety-seven suspects, including 32 people from Taiwan, were repatriated from Malaysia under the escort of Chinese police. The suspects were allegedly involved in more than 100 international telecom frauds in more than 20 areas of the Chinese mainland. Liang Xu / Xinhua