Chinese shoppers show a greater willingness to loosen their purse strings as incomes increase and new products become available
Chinese consumers' willingness to spend reached the highest level in the first quarter of this year, driven by people's strong desire to upgrade, a study from Nielsen Co showed on May 31.
The willingness to spend rose to 52 from 49 in the fourth quarter last year, reaching a record high.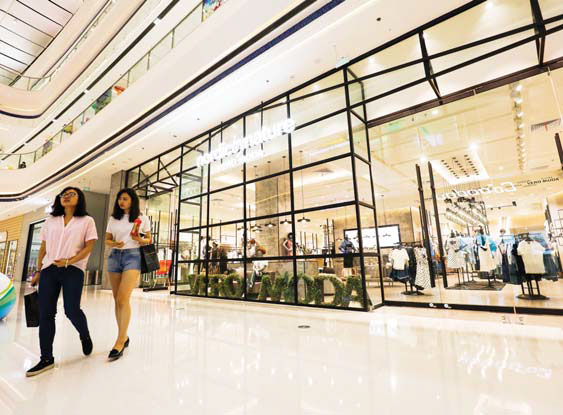 Visitors at a shopping mall in Nanchang, Jiangxi province. Provided to China Daily
At the same time, Nielsen's consumer confidence index dropped two percentage points from the fourth quarter of 2015 to 105, which still is in positive territory. That index includes spending intentions, as well as measuring perceptions of local job prospects and personal finances.
Consumer confidence levels above and below a baseline of 100 indicate degrees of optimism and pessimism, respectively.
It is the second time Nielsen's willingness to spend and consumer confidence indexes have diverged.
Despite the slight drop in confidence, China remains one of the most confident countries, ranking sixth in the world.
"Although China's consumer confidence declined in the first quarter, big swings are not expected because the country's economic fundamentals remain strong and incomes are gradually improving," says Lynn Xu, senior vice-president at Nielsen Greater China.
"We noticed people's strong desire for product upgrades, and this is also a result of China's commitment to shift from an investment-driven to a consumption-driven economy."
The rising willingness of Chinese consumers to spend is no surprise, according to Yan Xuan, president of Nielsen Greater China.
"The past three decades have seen a dramatic shift in shopping behavior, as incomes have risen and new products have entered the local markets. Chinese consumers have moved beyond being able to afford only the basics of life. Their discretionary spending has increased, leading to an increased appetite for everything from entertainment to luxuries," Yan says.
The consumer confidence measurements of a different company, investment bank ANZ, indicated a similar trend.
"Sentiment remains elevated following April's strong rebound. Despite the slight fall in the headline (confidence) index in May, consumer confidence remains well above the average level over the past year," says ANZ economist Louis Lam. "This is also the second-highest reading over the past 12 months, second only to that in April 2016."
Strong consumption is expected to continue to be a cornerstone of the Chinese economy, with private consumption having contributed 5.7 percentage points to the GDP growth of 6.7 percent in the first quarter of 2016, Lam says. That trend should continue to underpin decent growth momentum in second-quarter GDP, which is forecast to be 6.5 percent, he says.
Nielsen's survey also showed men having a stronger willingness to spend than women. Men's willingness to spend hit 54 in the first quarter, higher than that of women, at 49. Men's rising enthusiasm for spending is mainly derived from their promising expectations for employment prospects and personal finances.
huyuanyuan@chinadaily.com.cn