Chinese conglomerate opening first of seven planned parks before Shanghai Disney
Wanda Group was scheduled to open its first outdoor entertainment complex in Jiangxi province on May 28.
The launch of Nanchang Wanda City looks well timed by the company's ambitious founder, Wang Jianlin, to take at least some of the thunder from its biggest potential rival.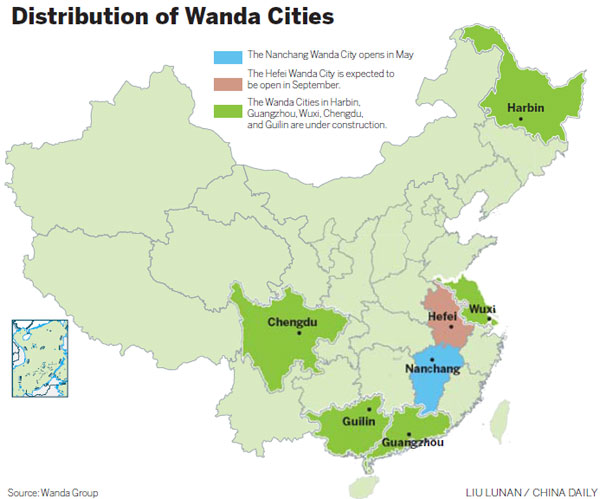 On June 16, the gates are due to open to what is arguably China's most anticipated park, the Shanghai Disney Resort, the US entertainment giant's first venture on the mainland.
According to the Chinese Tourism Academy, total domestic tourism revenue last year soared to 4 trillion yuan ($610 billion; 545 billion euros), about 230 billion yuan of which was generated by theme parks.
Wang and his property conglomerate have ambitious entertainment plans right across the country and have spared no effort in telling the Chinese public where they will be able to find the most fun, at the right price.
In recent months, Wanda's top management have also been equally bullish, insisting its venues will beat Disney hands down in terms of visitor numbers and total revenue once it has rolled out what could eventually be as many as 20 Wanda Cities nationwide by 2020.
Ben Cavender, the principal of China Market Research Group, however, is more balanced in his predictions for the market.
"I believe both can do well," he says. "Wanda's pricing will be competitive, although its operational experience may lag behind Disneyland."
A ticket to the first Wanda City outdoor theme park in Nanchang costs 198 yuan during the week and 248 yuan on weekends and holidays, compared with Disney's 370 yuan and 499 yuan respectively.
Liu Mingsheng, a spokesman for Wanda, says its ticket prices have been calculated based on its investment at the site: Nanchang Wanda City cost 20 billion yuan to build compared with 34 billion yuan for Shanghai Disney.
US theme park giant Universal Studios Inc also plans to open a flagship site in Beijing, but most of Wanda's complexes are in cheaper second-tier cities, helping the company to build more in the future.
After Nanchang, Hefei Wanda City in the capital of Anhui province is expected to open in September, and there are five others already under construction, in Harbin in Heilongjiang province, Guangzhou in Guangdong province, Wuxi in Jiangsu province, Chengdu in Sichuan province and Guilin in the Guangxi Zhuang autonomous region.
Lynn Xu, senior vice-president at Nielsen Greater China, predicts massive growth and potential in years to come for theme parks, particularly in third-tier cities and rural areas, where competition will be far less fierce than in big population centers such as Beijing and Shanghai.
huyuanyuan@chinadaily.com.cn