Some have claimed that overcapacity in China's steel industry has weakened the global economy and resulted in high unemployment. These accusations are unfair.
The International Monetary Fund lowered its forecast for the growth of the world economy this year from 3.4 percent to 3.2 percent.
For this, Western countries have put the blame on China.
United States Trade Representative Michael Froman says China is the source of half of all the world's steel, and the main source of the world's excess capacity.
Sigmar Gabriel, the German minister of economics and energy, also said during a strike by more than 15,000 steelworkers at Krupp that China has not implemented a market-oriented economy.
Compared with steel companies like Germany's Krupp, India's Tata and those in Britain, China's steel industry remains at a lower technology level. Its excess steel products are all low-end construction materials, including deformed steel bars, hot-rolled coils, cold-rolled sheets and wire rods.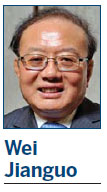 The European Union's imports of Chinese steel products are just a small part of the total, and those that they do import are products EU countries don't make anymore.
However, China imported about 1.2 million metric tons of steel from the EU last year to meet its needs in the auto and home appliance sectors. And the amount continues to rise.
China's excess steel capacity cannot affect the West's steel industries. Gabriel obviously ignores the domestic situation. Germany's steel industry developed over more than 100 years, and Krupp was always satisfied with its sales and good brand reputation. However, the manufacturing technologies and management rules that the company has followed need development. The Krupp strike was a warning for both the German government and the company that it needs technological innovation and development.
Froman is also incorrect. He suggests China conducts unfair trade by dumping goods in other countries. Yet the country is one of the biggest victims of unfair trading.
China has been the subject of most anti-dumping and anti-subsidy investigations for 19 consecutive years. More than $100 billion in exports were affected. Some Chinese enterprises even failed to enter overseas markets because of such probes.
Some countries criticize China unfairly, espousing the "China threat" theory. They fear that China's rise may threaten their market monopolies. It is problems on the supply-side that cause excess steel capacity globally.
Countries should work together to form a community of interests. Some in the West use unfair financial regulations and rules to try and prevent emerging countries from developing. This behavior will, in the end, curb their own development because it leads to low consumption in developing countries.
China will host the G20 Summit in Hangzhou, Zhejiang province, in September, when one topic of discussion will be global governance. Another hot topic will be overcapacity. China will take the lead to find a solution to global overcapacity.
Africa needs a lot of steel to satisfy its demand for railways, ports and buildings. China and Western counties with large steel production power can work together to open and operate steel plants in Africa.
And it is not only the steel industry where China faces criticism. I forecast that Western nations will also blame China in other sectors, such as the clothing, leather, textiles and home appliances.
The Chinese government, industrial associations and enterprises should be prepared.
China cannot bear fault for the excess capacity created by problems in other countries, such as old-fashioned management, backward technologies and manufacturing systems, and shrinking markets.
The author is deputy director of the China Center for International Economic Exchanges and a former vice-minister of commerce. The views do not necessarily reflect those of China Daily.