Does one have to get married to science first to become an established scientist?
At first glance, 55-year-old Gao Fu, with his PhD from Oxford University, seems proof of the idea.
Recognized in 2013 as an academician of the Chinese Academy of Sciences, which is one of the highest honors for a scientist in China, Gao is the vice-president of Beijing Institute of Life Science in CAS, and deputy director-general of the Chinese Center for Disease Control and Prevention.
But Gao sees his own path differently.
"I want to marry science, but science does not necessarily want to marry me," Gao jokes about how he meets obstacles in his field.
"Pursuing science is like pursuing a girl you love. You have to do all you can to chase her," Gao, who's also a professor at the Institute of Microbiology in CAS, sometimes tells his students.
"But there is no guarantee she will love you back. If she doesn't, you'd better move on to the next target. She might love you back. Then at least you get something."
Though ordinary people may believe that a scientist's mind is rigid as a rock, Gao loves to tag himself as "flexible".
Gao's resume might suggest that he never draws back from the pursuit of science. But in his long and stellar academic career, Gao thought about quitting many times.
After studying molecular virology at Oxford from 1991 to 1994, he continued his research at the Institute of Molecular Medicine in Oxford for the next five years. He moved on to Harvard University as a Wellcome Trust (UK) International Research Fellow to go further with his study from 1999 to 2001.
Gao taught as a lecturer at the Nuffield Department of Clinical Medicine at Oxford University from 2001 until 2004, when he was invited back to China to chair the Institute of Microbiology at CAS.
He brought his family from London to Beijing in 2005; his son had just entered middle school that year.
"While in London, I said to myself, well, if I can't work this out, I'll just find a company and make a new start," says Gao with an edgy smile.
Starting up a company or working for one was always plan B, though he says he thinks of it less often now.
Perhaps because of that spirit, Gao was able to lead his team to make some key findings.
Gao stayed in Sierra Leone for three months in 2014 to study Ebola prevention on the ground.
His lab's research reports have appeared in Cell, Nature, Science and The Lancet among other renowned academic publications.
Gao's strategy is to put the most effort into projects that have not been pursued much. "In such fields, whatever we discover will be the world's first."
With that philosophy, he would suspend routine studies to shift his manpower to deal with emerging challenges - most recently the Zika virus.
Flexible as he is, Gao shows zero tolerance for academic fraud and plagiarism.
"I learned this in childhood. If I, or anyone in my family, dare to lie to my mother, it meant risking our lives, literally - mother would beat us," Gao says.
He attributed his academic integrity in science to the teachings of his mother.
Now the father of a 24-year-old son and a 13-year-old daughter, Gao still enjoys telling stories as the eldest son of his parents, who live in his hometown in Shanxi province.
Gao says his parents are "illiterate but extremely civilized", though like many parents of their generation, they believed in physical punishment.
Gao says he got beaten the least often among his brothers and sisters. "I would run when I sensed that my mother was angry," he recalls.
On Monday, the European Molecular Biology Organization, a professional organization of life scientists founded in 1964, appointed Gao as an associate member, along with seven other scientists from outside Europe.
"By serving the principles of excellence and integrity through their views and actions," EMBO director Maria Leptin says of new members such as Gao, "they make invaluable contributions to science and society."
chenmengwei@chinadaily.com.cn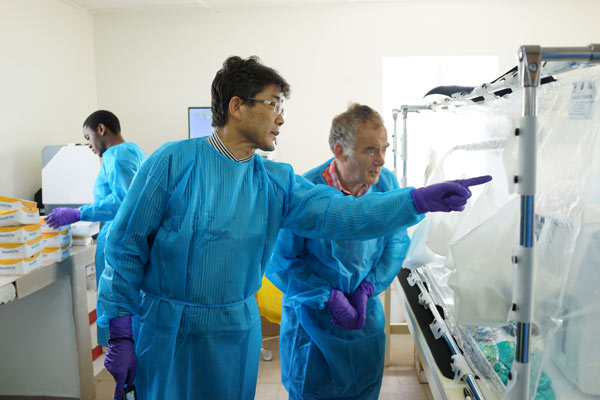 Gao Fu (left) works on Ebola prevention during his stay in Sierra Leone in 2014. Provided To China Daily