Miracle of WeChat takes hold of tech-savvy news gatherers
Every morning Monday through Friday, at our very first editorial meeting at 8 o'clock, all the editors from different news sections take out their cell phones, instead of notebooks, to attend the day's early briefing for China Daily's print-digital news convergence.
We share and discuss news topics and send out news updates to a panel set up via WeChat, the instant messaging application by Tencent Holdings Ltd. You may argue it's become the typical way of meeting for discussing and pitching news for digital platforms. But the truth is we have a much wider and deeper obsession about WeChat, both for work purposes and personal matters.
At rough count, the number of group panels I am involved with on WeChat is at least 20 of the most active groups I need to check out frequently throughout the day, including 10 for business, five for family and five for friends and classmates.
Social media allow you to work away from the office, no matter where you are; it also keeps the working clock ticking on a rolling 24-7 basis, whether during office hours or not.
Besides those groups, our tech-savvy generation also creates numerous news groups at any time, whenever new story topics and plans pop out. For example, when we planned an in-depth report on the value-added tax reform before its introduction on May 1, a special VAT reporting group was formed immediately consisting of reporters from the macroeconomic reporting team, retailing sector and finance beat.
Actually, almost all the reporting tasks are assigned via WeChat and a majority of working group discussions, daily news budget postings and office notice releases are realized on WeChat. I can't help wondering what an amazing invention it is, and how greatly communication efficiency has improved with it.
According to Bloomberg, WeChat had 762.4 million monthly active users at the end of the first quarter of 2016. The number was 697 million at the end of 2015, up 39 percent year-on-year.
One in four users check WeChat at least 30 times per day, while more than half check it out over 10 times a day, according to a report by Tencent.
The more active users, the easier it is for the social media to charge better rates from its advertisers and expand its channels to be profitable. For example, WeChat's payment service witnessed a huge capital flow of 32 billion yuan ($4.9 billion) in six days in February during the Chinese Lunar New Year, amid people's feverish involvement in sending and receiving red-pocket money.
Sometimes I think: are people really better-off and happier with the ever deeper and wider penetration of social media like WeChat? To be honest, I find it harder to keep concentrating on my job while I am jumping from one group to another, switching topic from this to that, in limited space and time. It's a bit like a circus clown juggling - tossing balls up into the air, trying to keep three of them moving about without dropping them, with only two bare hands.
Research by ericadhawan.com said it takes a typical user 23 minutes to get back on track after a social media interruption, which occurs every 10.5 minutes on average.
Even contact with my family has been migrating online, making it easier and simpler. I used to phone my parents who live in my hometown of Zhengzhou, Henan province, at least once a week, talking about my work and my life in general and asking about their health.
But four years ago my parents started using iPhones and opened WeChat accounts, and now we rarely call each other. We just send text or voice messages, or sometimes I make group video-calls with my parents and my sister.
We do contact each other much more frequently, but the exchanges have become more superficial.
I have to admit we have become more or less addicted to social media. A report by the University of Maryland said that 18 percent of social media users in the United States can't go beyond "a few hours" without checking Facebook. It's estimated that US office workers spend about one quarter of their working hours browsing social media for non-work related activities.
Frankly, I need to think twice about whether social media have become a productivity booster or a productivity killer? Before I work out the answer to that one, I'd better pick up my phone and call my dear old folks, 800 kilometers away.
Contact the writer at liuweifeng@chinadaily.com.cn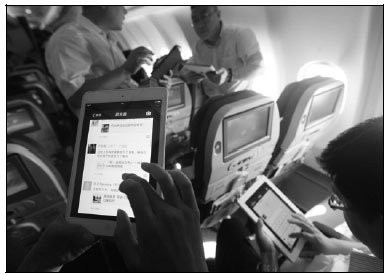 A passenger accesses WeChat with free Wi-Fi on flight MU 5101. China Eastern Airlines and China Telecom have introduced the nation's first commercial Wi-Fi use in air from Shanghai to Beijing.Wen Yin / For China Daily