China is home to diverse regional cuisines and a growing foreign-food scene, but nothing tops the hotpot ritual of placing fresh ingredients into a boiling broth, according to a new survey.
The survey, published by consulting firm OC&C this week, found that hotpot is China's favorite food.
A total of 2,600 people surveyed in 21 Chinese cities in February placed domestic hotpot chain Haidilao at the top of the list of the country's 10 favorite restaurants.
Others that made the top 10 included foreign fast-food chains KFC and McDonald's, as well as casual dining spots Pizza Hut and TGI Friday's.
Hotpot was originally eaten to stave off the winter cold but has become a favorite year-round food in China. Major hotpot chains often have long lines of people waiting hours to get a table, even on scorching summer days.
Data from Euromonitor International showed that seven of China's top 15 full-service restaurant chains specialize in hotpot.
Stephen Dutton, an analyst with Euromonitor International, wrote in a recent research note that hotpot restaurants have become omnipresent nationwide, serving as go-to places for social events and adapted for regional preferences.
Much of hotpot's popularity, Dutton said, comes from the participatory nature of the cooking process and time available for socializing. Friends and family sit around a pot of boiling broth, dropping meat, vegetables and other ingredients in to cook and absorb the flavors. While the food cooks, diners chat.
OC&C added that hotpot's success also lies in the customer service at leading chains. Restaurants such as Haidilao provide attentive service to customers, including entertainment, such as a dance performance in which waiters fling dough to make noodles.
To illustrate how leading restaurants go the extra mile, the OC&C report recounted how the staff at a famous hotpot chain offered to leave the restaurant to buy ice cream that wasn't on the menu for diners.
According to Euromonitor, full-service restaurants accounted for 75 percent of China's food service sector by value. While many high-end restaurants have seen business shrink amid the government's austerity campaign, hotpot has largely remained unscathed.
The implication for foreign brands trying to make a mark in China's food-service sector, OC&C said, is to localize their offerings to suit Chinese tastes - a practice that has brought rewards to Pizza Hut and KFC in China.
"While Chinese consumers may be excited to try out new experiences, they are accustomed to and proud of local foods and customs," the report said.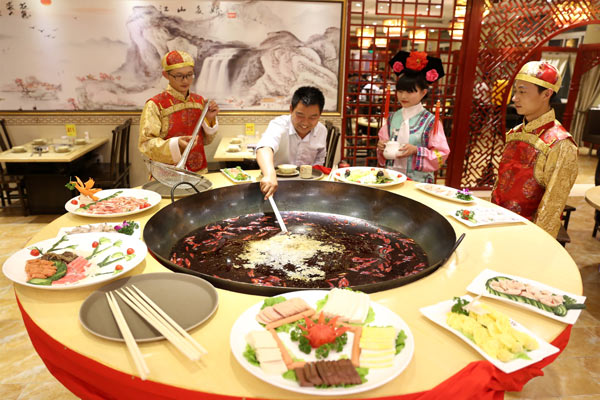 This snow leopard was sighted by researchers, confirming that the endangered species lives in areas south and north of Qinghai Lake in Qinghai province. Provided To China Daily