Alibaba vows to stamp out fakes online
International Anti-Counterfeiting Coalition move follows complaints from members about piracy
E-commerce giant Alibaba has pledged to stop fake goods from appearing on its online platforms after being suspended as a member of a global anti-piracy group.
The suspension by the nonprofit International Anti-Counterfeiting Coalition on May 13 came only about a month after Alibaba Group Holding became the first e-commerce member of the organization.
The coalition announced the suspension after questions were raised about conflicts of interest involving the organization's president as well as complaints from members who view Alibaba as a haven for cheap knockoffs.
The Chinese company said on May 15 that the suspension would not affect its relations with the coalition.
"As the world's largest e-commerce platform, Alibaba is an integral part of the solution to solving the worldwide issue of counterfeiting," read a company statement. "We will continue to discuss and communicate with more brands in the IACC ... expedite the process to remove products identified as fakes, and protect the interest of brands, no matter big or small."
The coalition has more than 250 members, including Apple and Rolex.
The suspension comes as Alibaba attempts to transition from a platform attracting buyers with cheap goods to providing good-quality, genuine brands. Membership in the coalition is the type of endorsement the company is looking for to back this shift.
Tian Hou, an analyst at TH Capital in Beijing, says Alibaba is keen to seek global recognition in line with its status as the world's largest online retailer. "It's willing to clean house, but all transitions and upgrading require time."
The coalition memberships of two US e-commerce sites, Wish and The RealReal, have also been put on hold.
mengjing@chinadaily.com.cn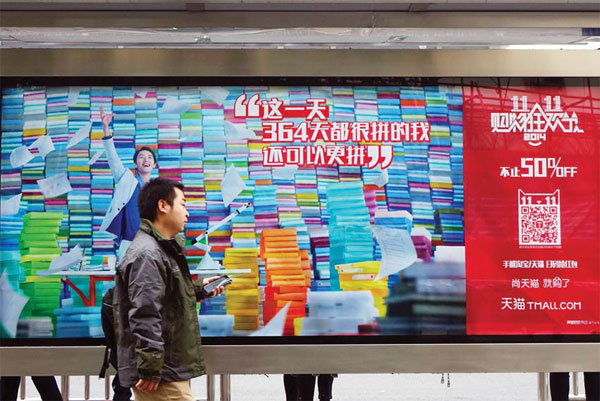 A billboard advertising Alibaba's Tmall retail site. The e-commerce giant has vowed to stop fake goods from appearing on its online platforms, such as Tmall. Provided to China Daily