With online celebrities becoming more and more popular in China, many incubators also have emerged and are turning the trend into more of a systematic business enterprise, insiders say.
A Tencent report of online celebrities says many incubators are now in operation, and the number is growing quickly. Although the result of their work is not entirely clear yet, it does mean cyber celebrities can be made in batches, offering endless streams of content.
"Online celebrities in the past had to rely on themselves, but now many have incubators or agencies to work with them. The birth of incubators means that in the online celebrity area, star-making factories have appeared," says Zhang Xiaorong, a senior researcher at the Tencent Research Institute, in a recent report.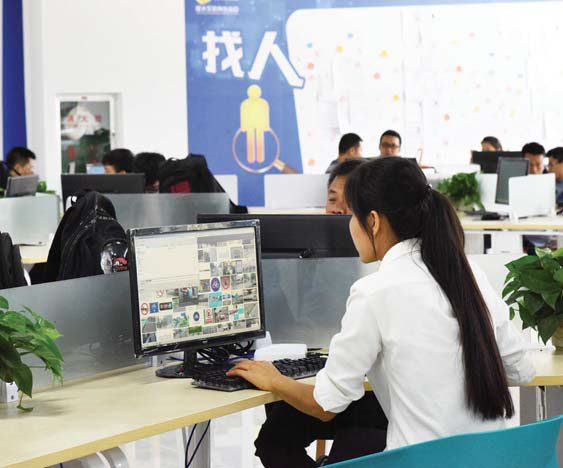 The office of an incubator for startups in Hainan. The growth of incubators for online celebrity is explosive. Provided to China Daily
Although no specific figures are available yet about how many incubators there are in China, Yang Ping, general manger of Hangzhou Online Celebrities E-Commerce Co, says growth of online celebrity incubators in the past few months has been explosive, and she can feel the competition getting fiercer.
Yang set up the incubator in June and has signed six online celebrities, most of whom are young, attractive women. The company has 50 employees and she plans to sign two dozen celebrities by the end of this year.
Ruhan E-commerce Ltd, one of the biggest incubators, in July 2014 signed its first online celebrity - the model Zhang Dayi - and helped Zhang manage her first Taobao online shop. Now it has worked with more than 50 online celebrities. It also received two rounds of venture capital totaling millions of yuan last year.
A report by Guotai Junan Securities shows that, among Ruhan's online celebrities, about 50 have online shops, and by the end of 2016 the number of shops will reach more than 100.
Feng Min, founder of Ruhan, says three qualifications are needed for online celebrities: being a leader or specializing in one area, having the desire and passion to share with others, and knowing how to interact well with clients and followers.
"Online celebrities can bring a very high number of clicks to the brands and they are most able to persuade followers to purchase products," he says.
He says there are three primary services that incubators provide to celebrities: first, discovering, researching and cultivating people who have expertise in a certain area, and to help them showcase the best of their expertise and talent to make them famous, and help them stay that way. Second is to find good supply chain partners to best showcase the online celebrities' products and content. Third is to sell their products and content through e-commerce sites like Taobao and other channels to fully realize their commercial value.
Yang says before she started the incubator, she worked in the international clothing trade and in factories. She dealt with many brands in Europe and the United States, such as Zara. So she has been able to help online celebrities navigate the clothing supply chain, she says.
The key for online celebrities is to have their own personalities and style, she says. When she works with them, she tries to respect their unique style and find the way to help them showcase it.
"Some incubators spend a lot of effort using control to try to perfect the content they display, but we like to show more respect toward their personalities, and would not plan anything that may not go well with their personal characteristics," she says.
She also is in contact with potential online celebrities overseas, and is trying to cultivate a crop from the US, Thailand, Japan and South Korea.