Brazil's Senate voted on Thursday to impeach President Dilma Rousseff after a monthslong fight that laid bare the country's fury over corruption and economic decay.
It hurled Latin America's largest country into political turmoil just months before it hosts the Summer Olympics.
Rousseff's enraged backers called the move a coup d'etat and threatened wide-scale protests and strikes, while her enemies insisted she had broken the law, and that the country's deep political, social and economic woes could only be tackled without her.
The 55-22 vote means Rousseff's ally-turned-enemy, Vice-President Michel Temer, will take over as acting president while she is suspended. The Senate has 180 days to conduct a trial and decide whether Rousseff should be permanently removed from office.
Rousseff, a 68-year-old economist and Brazil's first female president, is unlikely to be acquitted.
A two-thirds majority is needed in the Senate to convict her, but the scale of her defeat on Thursday showed that the opposition already has the support it needs.
"Impeachment is a tragedy for the country. ... It is a bitter though necessary medicine," opposition Senator Jose Serra, tipped to become foreign minister under Temer, said during the debate.
"But having the Rousseff government continue would be a bigger tragedy. Brazil's situation would be unbearable."
The impeachment process began in the lower house of Congress in December. Rousseff has denied any wrongdoing and called her impeachment a "coup".
Temer, a 75-year-old centrist and constitutional scholar who spent decades in Brazil's Congress, faces the challenge of restoring economic growth and calm at a time when Brazilians, increasingly polarized, are questioning whether their institutions can deliver on his promise of stability.
While opposition supporters celebrated in the country's largest city, Sao Paulo, many Brazilians are concerned that the end of Workers Party rule could bring back bad times for the poor, who have made great strides in the past decade.
Preparations for the Rio de Janeiro Olympics, which begin in less than three months, will not be affected by the Brazilian Senate's impeachment vote, the International Olympic Committee President Thomas Bach said on Thursday.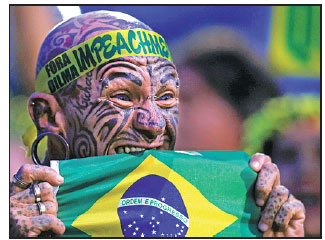 A protester outside the National Congress in Brasilia, the Brazilian capital, calls for the impeachment of President Dilma Rousseff on Wednesday. Paulo Whitaker / Reuters