CNOOC starts building more LNG tanks
Imports of liquefied natural gas are expected to rise as the pollution fight continues
Fujian LNG terminal, the country's largest liquefied natural gas project in terms of storage capacity, started building two more storage tanks on May 3, a move that will facilitate offshore gas transportation and the pipeline network.
The two tanks, which can hold 160,000 cubic meters of gas each, will be added to the existing LNG station in Putian, Fujian province, the project's operator says.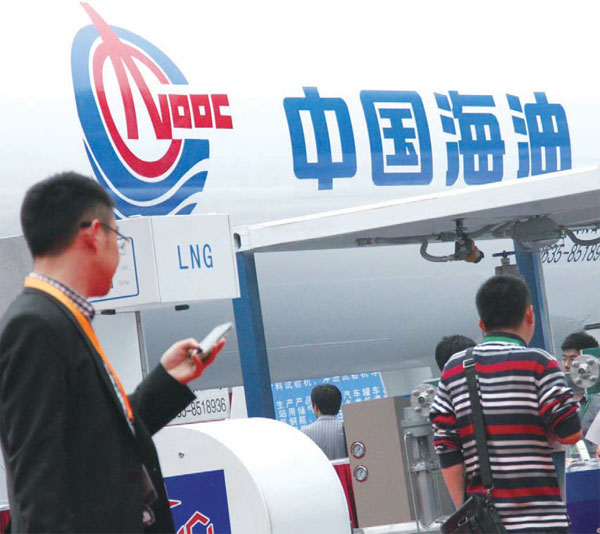 CNOOC will add two more tanks by 2018 to its LNG station in Putian, Fujian province. Provided to China Daily
China National Offshore Oil Corp says construction of the two tanks will be completed by 2018.
Fujian LNG terminal consists of a wharf, six storage tanks, and pipelines. After completion, it will be able to receive as much as 6.3 million metric tons of LNG a year, CNOOC says.
Yang Hua, the company's chairman, says it plans to provide more clean energy, especially in the coastal regions, during the 13th Five-Year Plan (2016-20).
"We'll continue to push the LNG industry and related technologies, making our efforts to optimize the country's energy mix," he says.
The global glut and sluggish economy will continue to drive down prices of LNG, which means that imports of the super-cooled fuel is cheaper than domestic production, according to experts, who say China's LNG imports are expected to rise in the long term amid mounting pressure from air pollution.
Neil Beveridge, a senior analyst at Bernstein Research, says China's gas demand is also expected to increase further after rising 14 percent in the first quarter. "Imports of LNG will also accelerate this year, driven by the ramp-up of a number of Australian LNG projects contracted to China," he adds.
LNG is natural gas that has been changed into a liquid state by cooling it to minus 162 C, which poses high requirements for the technology and tank structure.
Since 2008, CNOOC has had a team to develop the LNG storage technology called full containment LNG storage tank. Just a few countries in the world have the ability to produce such facilities.
CNOOC is running the Dapeng LNG terminal in Guangdong, the country's first and largest LNG importer, as well as six other LNG receiving stations in Shanghai, Fujian, Zhejiang, Tianjin and Zhuhai, with a total capacity of 27.8 million metric tons a year.
Last year, CNOOC imported 1.3 million tons of LNG, accounting for 70 percent of China's total LNG imports.
The Beijing-based company is also building LNG vessels and has set a target to develop its LNG transportation business.
lvchang@chinadaily.com.cn