Space engineers eye industrial robot market
CASIC subsidiary takes on commercial competition, making machines for inspections, transportation and security tasks
A team of engineers with experience in China's space program has developed a series of industrial robots, aiming to grab a share of the huge domestic market.
Aerospace Science and Industry Intelligent Robot Co Ltd says its designers are specialists in servo motors and navigational devices and sensors, key parts in robotics.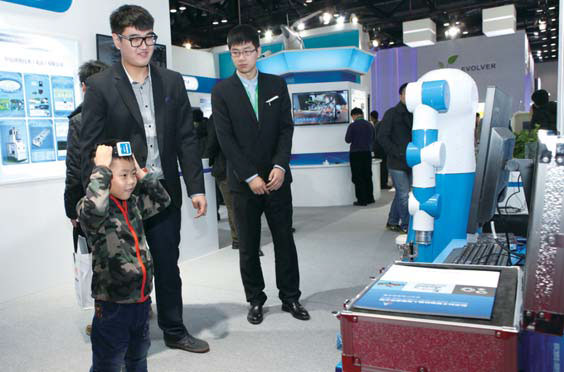 A boy interacts with a robot, developed by Beijing-based Aerospace Science and Industry Intelligent Robot Co Ltd, at an industrial fair in Beijing. Provided to China Daily
The company is a subsidiary of China Aerospace Science and Industry Corp, one of the nation's largest space and defense contractors, and its engineers have worked on carrier rockets and missiles.
"We've used our expertise gained in the development of space equipment to make a series of industrial robots," says chief designer Wang Xiaolin. "We also design small and mid-sized portable robots that can handle counterterrorism tasks, reconnaissance, explosive defusing, nuclear plant patrols as well as mineshaft inspection."
He says the company has been commissioned by a Taiwan-based electronics manufacturing giant to develop a robotic transport system for its industrial parks on the Chinese mainland.
"We expect each of the industrial parks will use dozens of such robots," Wang says, without elaborating on the client's name or the contract's value.
The company is also designing inspection robots for the Ministry of Housing and Urban-Rural Development to check underground pipelines. Wang says introducing this will create a big opportunity for the company, as a metropolis like Beijing will need hundreds of such machines.
Last year, Aerospace Science and Industry Intelligent Robot earned 50 million yuan ($7.7 million; 6.6 million euros) in sales revenue from its robots and robotic components, according to company data. The goal for this year is to reach about 200 million yuan.
Despite its rapid growth, Wang says the company is facing fierce competition, as many private enterprises already have a considerable share of the market and are better placed to make products quickly to meet clients' specific requirements.
"They can deliver products to buyers in only three to four months, while their robots have a very attractive price," he says. "We'll continue to promote our robotic components such as motors, control units and decelerators to enable domestic users to replace foreign products with ours."
Once users are familiar with the company's products, there will be a higher chance for them buying its robots, he adds.
According to statistics from the International Federation of Robotics, China has been the biggest user of industrial robots in the world since 2013, when it surpassed Japan in terms of the number of robots sold that year.
In 2014, about 57,000 industrial robots were sold in China, accounting for nearly 25 percent of the global total sales, the data showed.
zhaolei@chinadaily.com.cn