China is set to play a dominant role in world snooker, the sport's top officials have said after Ding Junhui recorded the best performance by an Asian player at a world title event.
The 29-year-old, who moved to the UK at age 15 to pursue his snooker dream, narrowly missed out on unseating Mark Selby from his world No 1 spot in a gripping final of the World Championship at Sheffield's Crucible Theatre.
It was another landmark in a career in which Ding has served as China's standard-bearer in a sport that has undergone a rapid growth of interest and participation. He has inspired a new wave of young players who aim to match his career haul of 11 ranking titles. Barry Hearn, the chairman of World Snooker, says the Chinese government is pouring investment into sport, which will help the country dominate not only snooker, but also other sports within 10 to 15 years.
"Do I want to see the top 16 players all Chinese players? The system is there, if they are good enough, to do exactly that," he says.
Jason Ferguson, chairman of the World Professional Billiards and Snooker Association, says snooker was already huge in China.
"They've got 1,500 snooker clubs in Shanghai alone, as well as 1,200 in Beijing. These are huge numbers. In participation it is big, but in media and television it's also very big."
In addition to Ding, players such as Zhou Yuelong, Yan Bingtao and Zhao Xintong are likely to become a lot more familiar over the next decade, as will others competing in a sport that attracts 100 million TV viewers at home.
During this year's final it was announced that the World Snooker Championship will stay in Sheffield until at least 2027. However, other major events will be held in China.
Ding, whose record at the World Championship was poor before this year, says: "Five years ago I reached the semifinals, and this year I made it one step further. So maybe next time I'll win. The experience is massive for my career. If I can stay playing like that then I will win more tournaments.
"Some people in China will be disappointed, but I'm not disappointed in getting to the final," he adds.
Seven-time world champion Stephen Hendry applauded Ding, saying he is at a different level from most others. "It's been tough for him at times. ... Maybe he got bored at moments, but it looks as if he's past that."
For China Daily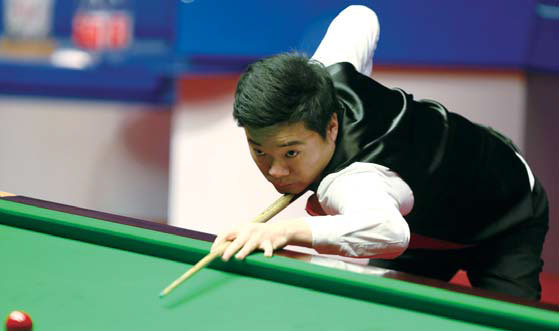 Ding Junhui in the final of the World Championship at Sheffield. Han Yan / Xinhua