More dialogue will expand tourism: expert
Editor's note: This story is one in a series by China Daily USA that marks the 2016 US-China Tourism Year. President Xi Jinping and President Barack Obama declared the year-long program of activities during Xi's state visit to the US in September 2015.
The United States and China, the world's two largest tourism economies, should foster a "continued, collaborative and innovative dialogue" to allow for further opportunities of tourism development, said a California-based tourism industry expert.
"Partnerships are an effective way to develop tourism. Visit California will continue to collaborate with our travel trade partners in China to increase product expansion and education of consumers," said Leona Reed, associate vice-president of global marketing with Visit California, a non-profit organization committed to developing and maintaining marketing programs in partnership with the state's travel industry.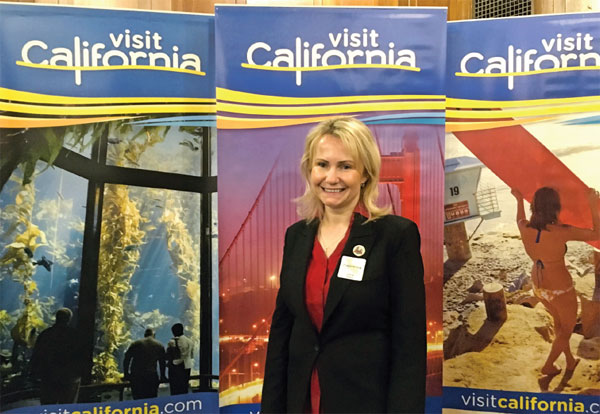 Leona Reed, associate vice-president of global marketing with Visit California, says "a continued, collaborative and innovative dialogue will allow for further opportunities of tourism development" for both the United States and China. Lia Zhu / China Daily
In February, China and the US launched the China-US Tourism Year, as an outcome of President Xi Jinping's visit to the US last September. The program aims to increase travel and tourism between the two countries by enhancing travelers' experience and increasing their cultural understanding of the other.
"Visit California supports the US-China Tourism Year partnership between President Obama and President Xi, as it is a fantastic example of the value of tourism," Reed said.
China is the largest source of overseas visitors to California, which is projected to receive 1 million visitors from China in 2015. That number is expected to exceed 1.8 million by 2018, which would be a 78 percent increase over 2014.
As part of the efforts to strengthening the partnership with China's tourism industry, Visit California joined the China National Tourism Administration, Brand USA and the Los Angeles Tourism and Convention Board to serve as a host of the US-China Tourism Leadership Summit last fall.
"This alliance helped to foster a dialogue between US and China tourism industries, a relationship that is crucial to both California and China's economic health," said Reed. "The collaborative, mutually beneficial objectives of this annual summit contributed to strengthening tourism business between both regions."
Visit California has been increasing its investment in Chinese tourism by opening two new offices in Chengdu and Guangzhou this year in addition to Beijing and Shanghai. It has committed $9 million in its 2015-16 fiscal year budget to Chinese marketing - an 80 percent increase from the previous year.
Reed also noted that California is the first state to partner with UnionPay International, a subsidiary focusing on international business of China's most widely accepted bank card network UnionPay, on a statewide "China Ready" initiative.
The educational series was created to prepare the state's tourism industry for the increasing number of Chinese visitors, with the aim of maintaining California's status as the top US destination for Chinese travelers and promoting UnionPay's acceptance at businesses throughout the state, she said.
Next month, China will hold the First World Conference on Tourism for Development in Beijing. Reed said both the US and China are expected to contribute the world's economic growth through tourism development.
"Travel is a great equalizer. Now, with more than 1 billion people traveling internationally every year, the tourism industry has the ability to generate economic growth, promote local culture and generate shared understanding," she said, adding that "tourism is a pillar of the global economy".
According to Visit California, travel and tourism expenditures totaled $121.2 billion in 2015 in California, supporting jobs for more than 1 million Californians and generating $9.7 billion in state and local tax revenue.
In China, the tourism industry has become one of the fastest-growing industries in the country, said Reed. "China is now the second-largest tourism economy behind only the United States. Like the United States, China has distinct regions that offer their own culture, cuisine and tourism destinations," she said.
liazhu@chinadailyusa.com