Standard Chartered is banking on China
New CEO says company plans to invest in continued opening up of country and is positive on long-term potential
It was a case of get busy living or get busy dying.
When Bill Winters was invited by the chairman of Standard Chartered Plc to join the group, the London-headquartered international banking and financial services company - which has a 150-year history in some of the world's most dynamic markets - was on the verge of a huge restructuring.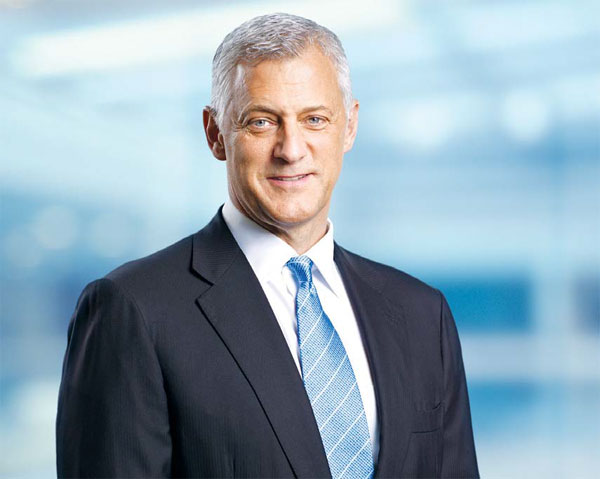 Bill Winters says he is positive about China's long-term potential. Provided to China Daily
Last year, Standard Chartered reported a $1.5 billion pretax loss, which was its first annual loss since 1989.
Its underlying loan impairment soared 87 percent year-on-year to $4 billion in 2015. A loan is impaired when it is unlikely the lender will collect its full value because the borrower's creditworthiness has fallen.
Having spent 26 years with JP Morgan Chase & Co in diverse leadership roles, including co-CEO of the investment bank between 2004 and 2009, Winters was parachuted into Standard Chartered and was appointed as group chief executive in June 2015. US-born Winters has dual American and British nationality.
Five months later, he announced a strategic plan to "significantly reallocate resources to change fundamentally the mix of the group toward more profitable and less capital-intensive business". Under the plan, the key areas of investment include digital banking, wealth management and renminbi services.
"We are repositioning some of our key businesses around the things where we are really good. I'm happy to say that everything we are investing, in one way or another, relates to our business in China, and we remain positive on China's long-term potential," he said.
Recently, he spoke to China Daily about his new strategy for the group and his vision for the role of the China market in the bank's turnaround. The following are edited excerpts from the interview:
Q: You've carried out some major management changes and are implementing a new strategy for the group. What do they mean to your business in China? Will you adjust your strategy in China?
A: The first thing I did after I joined Standard Chartered was to put a management team in place. Our intention was to allow our local offices to operate much more autonomously and directly.
We want our country managers to have the ability to really run their business locally and make the management calls on the ground, so that they are responsive to the environments in the countries in which we operate.
It's just been six months since we put that strategy in place, but I think we are already seeing a real focus on what our local clients need in major markets and positioning the rest of the bank businesses around those local opportunities.
We launched an initiative to make our business much more efficient, which has involved automating some processes and digitizing our business.
One of our four key initiatives is to invest in the continued opening up of China. That involves a broad role of different initiatives - the Belt and Road Initiative, the internationalization of the renminbi, the opening up of Chinese capital markets, and the increasing need for emerging affluent Chinese savers to have access to investment products that we may be able to identify internationally or domestically.
How do you plan to grow your business in China while reducing risks?
China's growth is slower but it's still 6.5 to 7 percent, which is still very fast in such a large economy. The nature of Chinese growth suits our business very well, so we're very committed, for example, to the Belt and Road Initiative.
We operate in nearly half of the countries where the initiative is being rolled out. We as a bank have been, and always will be, very strong as a financier of underlying infrastructure.
That sort of initiative coming out of China is very well suited to our business strategy.
The Chinese financial system is internationalizing. As this large economy opens up to the rest of the world, we expect to play a very important role in partnership with the Chinese banks and build very strong businesses together.
What does the Belt and Road Initiative mean for Standard Chartered? What will the bank do to facilitate the implementation of this initiative?
The Belt and Road Initiative aims to boost trade and investment growth through better infrastructure connectivity across Asia, extending to the Middle East, Africa and Europe.
We estimate that official financing for the initiative could potentially top $1 trillion in the next decade.
We are dedicated to becoming a leading international bank in supporting the initiative by fully making use of the bank's unique network, franchise capabilities and rich client experiences.
Among the 65 Belt and Road countries joining the initiative, Standard Chartered has branches in 26 countries and has been operating in most of those markets for more than 100 years.
We have a proven track record, rich experience and strong expertise to help our clients invest in the Belt and Road projects.
Last year, Standard Chartered recorded its first loss in many years. What are the strengths that will bring you back to profit-making?
I'm convinced that we can return the bank to profitability because the core strengths that have been with the bank are still there. We made some lending mistakes in the years previously that we needed to address last year. On top of that, we had a very difficult environment in our markets, with slower economic growth and much lower commodity prices.
The economic environment remains challenging. Commodity prices remain low and there's quite a bit of uncertainty in terms of how markets will behave.
But we are convinced that the markets that we operate in - China, the rest of Asia, the Middle East and Africa - have good medium- and long-term prospects.
In China, in which sectors are your bad loans distributed? Are there any sectors or companies to which you will refrain from lending?
Our asset quality in China is broadly OK. We did have nonperforming loans in China, but the overall scheme of our Chinese business is perfectly manageable.
We had some of the same concentrations of bad loans in China that we had elsewhere - commodity-related companies. We had relatively small but broadly dispersed risks in our commercial banking business.
When you think about our aggregate nonperforming loan problem, China doesn't feature as one of the trouble spots. We are not looking to tighten up our standards fundamentally in China.
You mentioned digitizing your business in China. What do you think of evolving financial technology and internet financing here in China and emerging Asia?
The development of financial technology now allows for leapfrogging in many different ways. Of course we can be the one that does the leapfrogging or we can be jumped over, depending on how proactive we are.
I think there are broadly two types of financial technology firms that are being created. First, companies that want to disrupt the existing market and displace banks. Second, companies that want to find ways to basically serve banks or partner with banks. There will be a place for both as time goes by.
We'll spend something like $1.4 billion this year on technology-related investments. Most of that is financial technology even if it's entirely based on our existing systems.
What impact will the fluctuations of the renminbi exchange rate have on the currency's internationalization?
The volatility in markets - both the RMB itself and also the Chinese equity market, and the impact of that volatility on international markets - is quite profound. We have to split it into a few different areas to consider.
I think the Chinese authorities are starting to have a long-term communication strategy that avoids the kinds of surprises that we had over the past eight months.
But fundamentally, we believe that the China growth story and China competitiveness in international trade remain strong, so we don't see a need for a substantial reduction in the value of the Chinese currency.
Do you visit China often? And what is your impression of the changes in China?
I came to China in 1989 for the first time as a tourist, and I've come probably every year since. I've been to many different parts of China, sometimes alone and sometimes with my family, because we very much enjoy traveling to this country.
China has changed dramatically over that period. From the outsider's perspective, it's an incredibly dynamic country in every way and will continue to be so.
jiangxueqing@chinadaily.com.cn