Chinese films eye the Russian market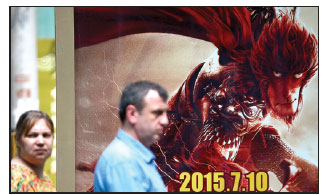 Passers-by walk in front of a movie poster in Beijing in 2015, when the domestic film Monkey King: Hero is Back reaped a record-breaking box record.Wei Xiaohao / China Daily
The animated Chinese blockbuster Monkey King: Hero is Back, which grossed $150 million in China, has just hit Russian screens, as more Chinese films are increasingly testing the waters in overseas markets.
It is not easy for Chinese movies to make inroads in Russia, but Muscovites say Monkey King is an unforgettable picture. They are impressed by its technology and storytelling.
"I like the animation very much. When I was a kid, I saw a similar Monkey King cartoon. I'm familiar with the story," a middle-aged Moscow filmgoer said.
Olga Zinyakova, marketing director of the Karo Cinema Chain, one of the fastest-growing film-theater operators in Russia, said she is stunned by the technology.
"This (the film) is great and is a real masterpiece ... which was made without any support from the West," she says.
Nevertheless, it is still far behind Disney cartoon Zootopia and domestic production Smeshariki at the Russian box office.
"The competition in the market is intense. Each week we have something like 10 new movies. Of course, it is not easy for newcomers. Another issue is the economic situation, which affects the incomes of families," Zinyakova said.
Russia's big cinema chains typically screen fewer than five Chinese movies every year, which experts say is not enough for Russian audiences.
Zinyakova suggested that Chinese movie producers work with big distributors in Russia to show Chinese movies more regularly.
Many Russians are fans of Zhang Yimou, Feng Xiaogang and Ang Lee, whose films present a distinctive Chinese flavor.
A student of history at Moscow University, who only gave Labina as her name, said she likes Zhang's To Live, as well as Jiang Wen's In the Heart of the Sun.
"When I watch these movies, I unconsciously get into their environment and travel back to the era represented by the films. I feel the joy and sorrow of the characters in the movies," she said.
China which produced nearly 1,000 films last year, is making serious efforts to tap overseas markets.
Chinese productions earned more than $400 million overseas in 2015, up nearly 50 percent year-on-year. But the figure is modest compared with the booming domestic market, where box-office records are being regularly broken.
Zinyakova said that, while storytelling with a human touch is the key to success in overseas markets, it is also essential to have good translations and promotional activities.
The opening film at this year's Moscow International Film Festival will be Wolf Totem, a Sino-French coproduction.
As for the prospects of Chinese films in Russia, warmer Sino-Russian ties mean China's booming film industry can potentially expect a warm reception in Russian cinemas.