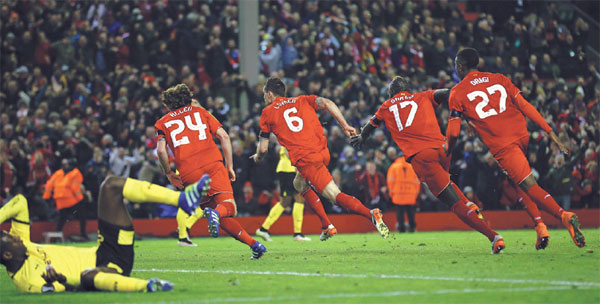 Liverpool's Dejan Lovren (No 6) celebrates scoring the team's fourth goal with teammates to wrap up a remarkable comefrombehind victory against Dortmund. Reuters
Liverpool fights back to advance to Europa League semifinals with thrilling victory
Liverpool manager Juergen Klopp revealed he had evoked the spirit of the club's famous Champions League fightback in Istanbul to inspire his team to Europa League victory over Borussia Dortmund.
Two-nil down at halftime in Thursday's quarterfinal second leg, and 3-1 behind on aggregate, Klopp reminded his players of the memorable night in May 2005 when former captain Steven Gerrard inspired his teammates to come back from 3-0 down and overcome AC Milan in a penalty shootout.
Divock Origi immediately reduced the arrears and although Marco Reus then struck back for Dortmund, goals from Philippe Coutinho and Mamadou Sakho teed up a storming Anfield finale that saw Dejan Lovren head home a stoppage-time winner to complete an extraordinary 5-4 aggregate win.
"It was a good atmosphere in halftime, honestly, because I was satisfied with the game; not with the goals, but with the game in general," Klopp said after the victory over his former club.
"I told the lads I was not there, but a few Liverpool players who are a little bit older and work as experts for television, they were 3-0 down at halftime and won a Champions League final.
"Even when it's not really likely, it's for sure possible and we should try it. When we scored, everybody could see it - something happened in the stadium. You could hear it, you could feel it and you could smell it."
Dortmund's third goal on the night, brilliantly set up by Mats Hummels and scored by Reus in the 57th minute, momentarily looked to have taken the wind out of Liverpool's sails, but Klopp said his side's response revealed its depth of character.
"That's the moment in football and in life where you have to show character," said the German, who succeeded Brendan Rodgers last October.
"That's what the lads did. That was pretty cool to watch. Of course to come back in a game like this against this highest quality opponent and win, you need a little bit of luck.
"But I think everybody who saw the game has to say it's deserved."
'No explanation'
Liverpool will learn its last-four opponent in Friday's draw and while Klopp warned there was still a long way to go in the competition, which his club has previously won three times, he said his side had established a benchmark for future performances.
"We will 100 percent get a real strong opponent in the semifinal. And we have to be there again, everybody," he said.
"But for tonight (Thursday), it was brilliant, outstanding, wonderful, emotional. Everything. I will not forget it because it's special. Now we have to carry on and do things like this more often."
Thomas Tuchel, who succeeded Klopp at Dortmund, was still struggling to make sense of what had happened in his post-match news conference.
"If you expect an explanation, I probably have to disappoint you because an explanation would mean that things are logical or tactical or at least in moments you see where a game goes to the other side," he said.
"None of this happened. We had a great reaction on the first goal of Liverpool and we scored a third one.
"With the equalizer it was an atmosphere where everybody, except our supporters, believed it was meant to be."
With Dortmund's Bundesliga hopes fading after it fell seven points behind Bayern Munich, Tuchel urged his players to clear their heads in time for the team's German Cup semifinal against Hertha Berlin on April 20.
REUTERS
Liverpool's Dejan Lovren (No 6) celebrates scoring the team's fourth goal with teammates to wrap up a remarkable come-from-behind victory against Dortmund.
Lovren hails 'amazing' recovery
Anfield hero Dejan Lovren hailed Liverpool's never-say-die spirit as it fought back to claim an "amazing" Europa League quarterfinal victory over Borussia Dortmund on Thursday.
With the Anfield faithful roaring with delight all around him, Lovren said he was impressed with the way Liverpool refused to accept defeat against Juergen Klopp's former club.
"It's an amazing feeling. It's one of the best games in the last two or three years," he told BT Sport after the 5-4 aggregate triumph.
"We never stopped believing in ourselves. It is a great effort from everyone. We didn't expect we would start like we did."
Liverpool's incredible comeback was spurred by the vociferous support of the Anfield fans, with the famous Kop end imploring the team to keep attacking in the closing stages.
Mamadou Sakho was quick to salute the supporters for their contribution, saying: "The most important thing was the team played with heart and the fans never leave us. It's a win for the Liverpool country."
The dramatic manner of Liverpool's revival will place the match among the great European nights in Anfield's illustrious history.
Divock Origi had given Liverpool hope when he scored its first goal early in the second half and the Belgian striker said the game will be one he will never forget.
"We can tell our children and grandchildren," he said.
"When we scored the first goal we felt it was going to be a special moment."