Chinese spur medical tourism in US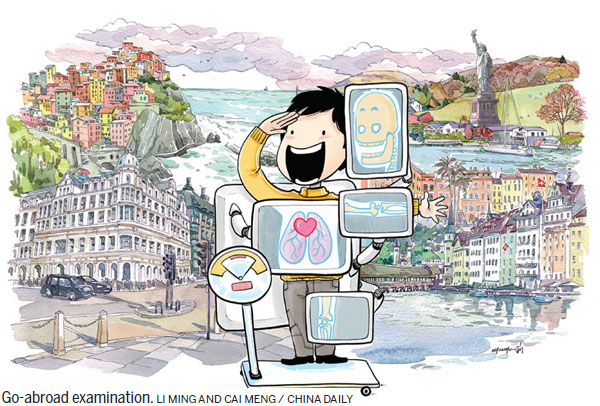 The US is enjoying a record number of tourists from China, but not all are coming to see well-known sites. Some have come for medical treatments they cannot get at home, reports Lia Zhu from San Francisco and Amy He from New York.
When the tumor was first diagnosed, I was very upset and thought I was going to die," says Mengyuan, a Chinese woman in a video posted by Cedars Sinai Medical Center on Youku, a major video website in China.
The 24-year-old from Shanghai received treatment for her brain tumor at the Los Angeles-based hospital last year. She was fortunate that the tumor was benign and the procedure focused a very precise dose of radiation on it without making new incisions or requiring general anesthesia. The treatment is said to have a 90 percent probability of preventing such a tumor from coming back in her lifetime.
Like Mengyuan, more patients from China are drawn to hospitals in the United States to seek advanced treatments for cancer and other serious illnesses.
Though there is no data indicating how many Chinese go overseas for medical treatment, various sources estimate that more than 3,000 Chinese patients came to the US last year for medical care, and about three quarters of them sought treatment for cancer - the most common ones including lung, breast, liver and stomach.
"This is a relatively new thing in the last two years that many people from China have been coming to the US for medical care. Prior to that, there were very small numbers," said Spencer Koerner, medical director of the Center for International Health and Telemedicine at Cedars-Sinai. "We noticed a year and a half ago when we started receiving more patients from China and many of them were recommended by people living in San Gabriel Valley."
Competition among US hospitals for Chinese patients is heating up as they flood the US market, particularly lung cancer patients from large industrial centers like Beijing and Guangzhou in South China's Guangdong province, said Josef Woodman, CEO of Patients Beyond Borders, a company that publishes medical travel guides.
Right time
In November 2014, Koerner went to Beijing and Shanghai, where he met with Chinese doctors and hospitals, as well as referral agencies. "We felt that the time was right for Cedars-Sinai to get involved in developing that market," he said. In July 2015, an office was opened in Shanghai for potential patients.
The global market for medical tourism is estimated at $55 billion annually and growing at a rate of 15 percent to 25 percent a year as the world population is aging and becoming more affluent at rates that surpass the availability of quality healthcare resources, according to Patients Beyond Borders.
Highly ranked hospitals in the US have experienced a rise in medical tourism in recent years. Massachusetts General Hospital in Boston, which tops US News & World Report's Best Hospitals list, said it has about 8,000 international patients annually. Beijing Saint Lucia Consulting, a major medical tourism agency, opened a Boston office in 2013 for Chinese patients going to the hospital and other medical facilities in the city.
"Specialized and well-developed procedures and specialized treatment that have not been available in China are why Chinese patients come to the US," said Spencer Koerner, medical director of the Center for International Health and Telemedicine at Cedars-Sinai "For example, in some of the minimally invasive surgeries, our cardiologists can replace a heart valve without having to actually operate on the patient. They do it through blood vessels."
There are also medications approved by the US Food and Drug Administration not yet approved in China. "So if a patient wants to get a special targeted therapy, then they would have to come here for that until they get approved in China," Koerner said.
Other factors relating to China's healthcare infrastructure also play a role, according to Yumi Gu, a Shanghai-based medical-tourism consultant.
"Many of the late-stage cancer patients are rejected by hospitals," she said. "More often than not, the patients, even if they are accepted, find it difficult to find a bed or they are not happy with the service. Usually doctors don't bother communicating with patients about their cases unless the patients have 'special connections.'"
In addition, due to under-prescribing of pain killers, many terminally ill patients suffer a lot from pain, said Gu. "So despite expensive costs of the US hospitals, patients would rather seek more respectful treatment," she said, noting that none of her clients had ever expressed concerns about money.
The costs vary from case to case, but generally a surgical procedure, like having a brain tumor removed, costs $120,000 at Cedars-Sinai, according to Koerner. In China, the cost is only around 50,000 yuan ($7,600).
The competition
For complex treatment, like chemotherapy or radiation therapy, the costs at any hospital in the US can be $200,000 to $300,000, he said.
While medical centers, such as the Mayo Clinic, MD Anderson and the Cleveland Clinic, are beginning to compete on reputation, cities like Los Angeles, San Francisco and New York have the added benefit of large Chinese populations, Woodman said.
Medical travelers tend to visit destinations that not only offer excellent medical care, but cultural familiarity as well, so a Chinese resident with a family in Los Angeles would be more likely to choose a nearby hospital within the region, particularly in an area like Southern California, which offers so much choice in quality medical care, he explained.
To promote Los Angeles as a medical tourism destination, the executives of five area hospitals - Cedars Sinai, Children's Hospital Los Angeles, City of Hope, Keck School of Medicine of USC and UCLA Health - joined Los Angeles Mayor Eric Garcetti on a trip to Guangzhou in late 2014, where they signed a Memorandum of Understanding (MoU) to attract more Chinese medical tourists to the region.
All these hospitals have made simplified Chinese available on their websites' international patient-services pages, and offer important ancillary services for the visiting patients.
"This effort was to help people realize that they don't have to go to Boston or Houston (for medical care). Since two thirds of the Chinese people who visit the US come though Los Angeles, we want people in China to know that we are a real medical destination with a lot of medical expertise here," said Koerner.
"The fact that five competing hospitals are coming together toward achieving a common goal is quite unique and promising. It appears these medical centers are focusing not only on the patient but important affiliations with Chinese hospitals, physicians groups, medical travel facilitators, and more," Woodman said.
LA's appeal
"Los Angeles' entertainment industry, favorable weather and tourism-friendly culture also help them compete with other US regions for the Chinese patients," he added.
The efforts have begun to pay off. A year ago, Cedars-Sinai saw only 30 patients and this year they expect to see 100.
"We are getting a lot of inquiries now through social media channels like WeChat and Weibo account," said Koerner. The WeChat channel was launched early this year, through which users have access to online videos of patients' testimonies and doctors' interviews, as well as healthcare tips.
"We have had five patients contact us through WeChat in the first month after they saw the posts and were interested in having their cases reviewed," he said.
The hospital has more than 300 employees with Chinese language skills. A coordinating nurse, with the help of an interpreter, is assigned to work with every patient from China.
"As soon as the number (of Chinese patients) builds up more, we'll add Chinese nurses to help coordinate," Koerner said.
Contact the writer at liazhu@chinadailyusa.com.