Nation pledges economic help for Nigeria
China vowed on Tuesday to help Nigeria end three bottlenecks containing the biggest African economy's industrialization and agricultural modernization.
President Xi Jinping made the remarks when meeting with his Nigerian counterpart Muhammadu Buhari, who is leading a delegation of 12 ministers, six governors, 35 high-ranking officials and 160 entrepreneurs on his first visit to China since taking office last year.
Buhari is trying to diversify his country's economy, which faces new challenges arising from the fall in oil prices. Nigeria is Africa's biggest oil and natural gas producer.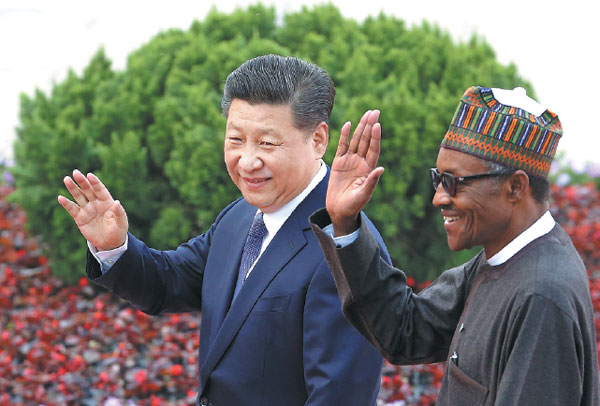 President Xi Jinping and Nigerian President Muhammadu Buhari greet primary school students after reviewing an honor guard during a welcoming ceremony at the Great Hall of the People in Beijing on Tuesday. Wu Zhiyi / China Daily
Xi said during the meeting at the Great Hall of the People: "The development strategies of our two countries fit each other, and our economies are highly complementary. We have huge potential for cooperation."
He proposed helping Nigeria to end bottlenecks affecting infrastructure construction as well as a lack of talent and capital.
The two presidents agreed to deepen cooperation in areas including oil refining, mineral exploration and agriculture.
At a signing ceremony held after the meeting, China's ICBC and Nigeria's Central Bank signed a mandate letter regarding Chinese cooperation and renminbi transactions.
Nigeria was the first African country to include the Chinese currency in its foreign exchange reserves.
Lin Songtian, director-general of the Foreign Ministry's Department of African Affairs, said the deal was "a big one", without giving details.
Another five agreements were signed covering areas ranging from production capacity to aviation cooperation.
Lin said, "This is an important visit in the history of China-Africa relations." He said the two nations' foreign ministers will hold a reception on Wednesday to celebrate the 45th anniversary of diplomatic ties, a rare arrangement during the visit of a foreign leader.
"Nigeria is seeking to enhance mutual economic cooperation with China through the visit to help accelerate Nigeria's industrialization and agricultural modernization," he said.
Nigeria has a large land area but is still seeking grain security, Lin said, adding that this will be a priority for cooperation between Beijing and Abuja.
Buhari told Xinhua News Agency before the visit that China has the technical and financial capacity, the development experience and the goodwill to help Nigeria.
"So, really, this is an opportunity Nigeria cannot afford to lose," he said.
Buhari said Nigeria is ready to expand industrial development, especially in the manufacturing and textile industries, and to speed up infrastructure construction, which presents huge opportunities for both countries.
Nigerian Minister of Agriculture and Rural Development Audu Ogbeh told a forum in Beijing on bilateral production capacity and investment cooperation: "Nigeria has a large amount of arable land. We expect China to bring agricultural machinery."
Nigerian Minister of Defense Mansur Dan Ali said his country will wage a long-term fight against terrorists to ensure the security of all foreign-invested companies in Nigeria.
Wang Yanfei and Xinhua contributed to this story.
lixiaokun@chinadaily.com.cn
Profile
Nigerian President Muhammadu Buhari was born on Dec 17, 1942, in Daura in northern Nigeria.
He began his military career by enrolling in the Nigerian Military Training College in 1961 and later attended military colleges in Britain, India and the United States.
Buhari served as governor of Nigeria's North-Eastern State, federal commissioner for petroleum and natural resources, chairman of Nigerian National Petroleum Corp and army division commander in the 1970s and 1980s.
He was Head of State of Nigeria from 1983 to 1985.
Buhari won the presidential elections in March last year and was sworn in two months later.