Chinese insurance conglomerate Anbang Insurance Group's withdrawal from the $14 billion bid to purchase US hotel chain operator Starwood Hotels and Resorts Worldwide Inc could highlight international wariness regarding the lack of transparency over the insurer's funding sources as well as the absence of a clear "game plan" regarding the acquisition, analysts said on Monday.
On March 31, Anbang abruptly withdrew its Starwood offer after raising its offering price three times, citing "various market considerations" as the reason for terminating the deal.
Anbang's sudden withdrawal caught Starwood and many industry experts by surprise, prompting speculation over the reasons and the insurer's motivation for ending the offer, which would have become the largest acquisition by a Chinese firm in the United States.
"One major concern on the transparency is its sources of funding," said Michael Chin, executive chairman of WT Global Hospitality Investment Co in Hong Kong.
"Plus, Anbang seems to lack an overall game plan, which is unlike Marriott International Inc, which has a thorough plan and will incorporate its corporate management teams to gain a maximum economy of scale after such an acquisition," Chin said.
Earlier media reports also suggest that Anbang's exit may have to do with its failure to secure massive financing for the deal as well as pressure from the regulatory authorities.
Chinese business magazine Caixin reported earlier that the China Insurance Regulatory Commission was not in favor of the deal. The insurance regulator did not respond to China Daily's inquiry on the issue.
The current regulation stipulates that the outstanding value of overseas assets owned by a Chinese insurer cannot exceed 15 percent of its total assets of the previous year.
James Woo, director and head of valuations and professional services of international property service provider Savills (Beijing), said that concerns over the massive outflow of capital to weigh on the yuan's exchange rate could be one of the causes for Anbang's withdrawal.
"The problem could lie in the financing structure of deal which involved enormous amounts of capital flowing out of China, which could pressure the yuan's exchange rate," he said.
Contact the writers at lixiang@chinadaily.com.cn and huyuanyuan@chinadaily.com.cn
China Inc must reassure its M&A targets
Chinese acquirers need to reassure foreign targets. After Chinese insurer Anbang abandoned a $14 billion takeover of US hotelier Starwood, overseas targets will think harder about pursuing deals with Chinese buyers.
One obvious remedy is agreeing to pay some of the deal's value to the target should the bid fail; for example, if US or Chinese regulators withhold approval. These fees can be substantial: recent 'reverse break fees' have ranged from 3 to 9 percent, lawyers at Clearly Gottlieb reckon, and ChemChina could pay a 7 percent penalty if the $43 billion purchase of Switzerland's Syngenta fails.
For break fees to be a convincing inducement, they also need to be held in escrow in foreign banks.
Roping in familiar Western partners, such as private equity groups or Wall Street banks, is another way to soothe targets.
Disclosure helps too. The more comfortable targets can get on the buyer's ownership structure, governance and official support for the transaction, the better. Same goes for deal financing. However, support from Chinese state banks can come with caveats. Buried in the small print can be a requirement that any payment is approved by the bank's internal credit committee.
State decision-making at home is opaque, and foreign political and regulatory reactions can be hard to predict too.
They can counter this by making offers too high to ignore. That is what Zoomlion, the heavy machinery firm, has done with Terex, offering to pay more than double the US crane-maker's undisturbed share price.
Since 2010 China Inc has withdrawn almost $70 billion of overseas deals. But it has completed more than $300 billion of transactions in the same period, Thomson Reuters data show.
- RACHEL MORARJEE Reuters columnist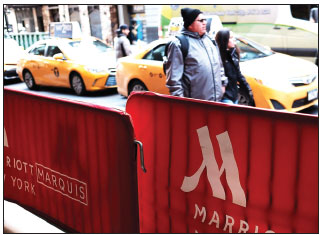 People walk by a Marriott hotel in midtown Manhattan. Getty Images