Higher down payments and other measures are being unveiled as the housing slump has changed into superheated market in some areas
Shanghai and Shenzhen have taken the lead among major Chinese cities in announcing a new round of restrictions to cool runaway home prices, but analysts suggest a balanced supply and demand would be the ideal solution.
Both announced new curbs on March 25, showing local governments' resolve in taming soaring prices.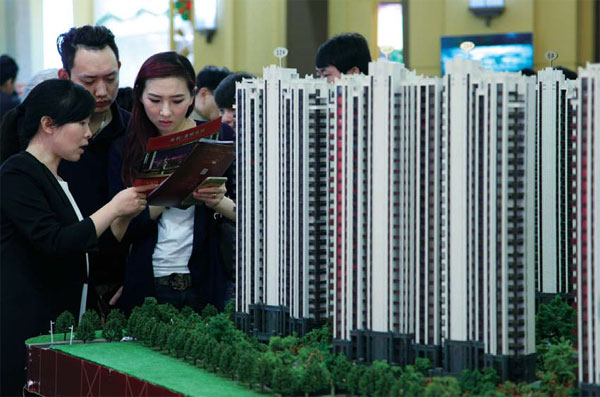 Homebuyers at a property expo in Shanghai. Provided to China Daily

Under Shanghai's new rules, local families with one property would have to pay at least 50 percent down for a second home. The minimum down payment would rise to 70 percent if the house is larger than 140 square meters or priced above 4.5 million yuan ($692,600; 618,800 euros), and located within the city's inner core.
The barrier for buying a home becomes even higher for families in Shanghai with no permanent residency because they are required to pay income taxes and social security premiums in the city for at least five years in a row before buying, compared with the previous requirement of two years of tax payments.
In Shenzhen, local homebuyers are required to pay at least 40 percent as a down payment for a second home, up from 30 percent. Non-local families can buy only one apartment after paying income tax and social security premiums for three consecutive years, up from one year previously.
Also on March 25, Nanjing in Jiangsu province and Wuhan in Hubei province released stricter measures for granting mortgage loans.
The new policies are in response to the central government's calls for implementing different measures according to their own situations to regulate and control the property markets.
With a 56.9 percent year-on-year growth in February, Shenzhen has recorded the biggest new-home price increase among 70 cities, followed by Shanghai's 20.6 percent, according to data from the National Bureau of Statistics.
Prices in the secondhand home market showed a similar trend, as Shenzhen reported a 54.2 percent year-on-year growth, followed by Shanghai's 20.3 percent.
"There is an escalating difference in home price growth, because first-tier and some popular second-tier cities grow much faster than other cities, and this difference has been carried on," says Liu Jianwei, a senior statistician at NBS.
"The measures taken by the government will reduce transaction volumes and cool price growth, but the appetite for housing stock will keep prices firm. Investors are unlikely to sell since there are few alternatives for their money, while end-users are unlikely to sell either," says James Macdonald, head of research for Savills in China.
"It is just a matter of time for Beijing to announce a tightening policy similar to those of its counterparts," says Zhang Dawei, chief analyst at Centaline Property Agency Ltd.
New-home prices in Beijing increased 12.9 percent in February from a year ago, and that of used homes soared 27.7 percent year-on-year.
Zhang says measures being considered by Beijing may include stricter regulations on property agents, increased tax, tighter credit lines for second homes and providing greater land supplies.
Chen Sheng, executive president of the China Real Estate Data Academy, says the new policies are necessary to show local governments' efforts in taming the overheated market, but for the long-term health of the market, they should try to strike a balance in supply and demand.
"Up to 30 percent of the land supply in Shanghai goes for industry use at the moment, while the proportion in cosmopolitan cities of New York and London is less than 5 percent," Chen says.
"The supply shortage may ease if the local government allots more land for property use," he suggests.
"The municipal government will increase land supplies to solve the shortage in the home market, and an information publishing system will be set up to trace the home supply status for the public," says Gu Jinshan, director of the Shanghai Housing and Urban-Rural Development Management Committee.
There will be 169 hectares more land available for commercial housing in Shanghai this year than in 2015, and the total land supply during the period of the 13th Five-Year Plan (2016-20) is to exceed that of 2011-15, according to Gu.
Shenzhen authorities have also ordered stronger measures to guard against financial risks in the property sector.
The city's government has banned financial institutions, including Internet finance companies and firms offering small home loans, from offering margin lending to homebuyers - where lending institutions allow individuals to borrow money to invest it.
wangying@chinadaily.com.cn