Chairman of bottled water company is looking to diversify and go global
Nongfu Spring, the best-selling brand of bottled water in China, has for years marketed itself on being "a little bit sweet" - yet its founder says the strategy now is all about going au naturel.
About 15 billion of Nongfu's trademark red-capped bottles are sold every year. However, competition is boiling over, as premium foreign brands like Evian and Perrier vie for a bigger share of the Chinese market.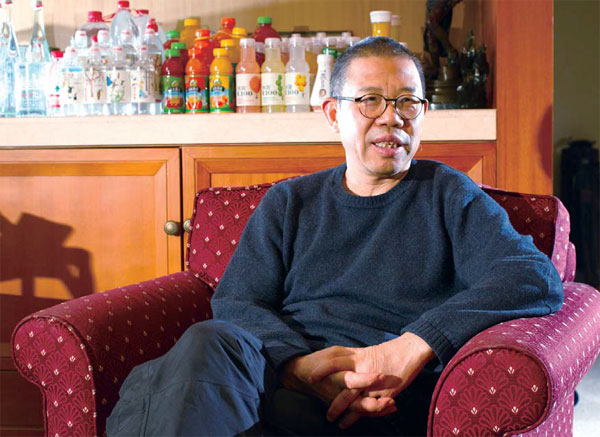 Zhong Shanshan, founder and chairman of Nongfu Spring Co Ltd. Photo provided to China Daily
To stay ahead, the company opened a new plant last year that taps a spring in the northeastern Changbai Mountains, which form a natural border between Jilin province and the Democratic People's Republic of Korea.
Nongfu has 16 factories nationwide, and the latest facility is estimated to contribute up to one-fourth of its total water supply.
However, for Zhong Shanshan, the company's 62-year-old chairman, the plant represents a "fresh start".
In an exclusive interview with China Daily, he explains that the plant produces three new products: premium table water, and water for babies and teenagers.
"They're not designed to be thirst-quenchers," he says, adding that each includes added minerals, making them different to regular purified water.
The premium brand comes in glass bottles decorated with paintings of animals native to the Changbai Mountains. A 750-milliliter bottle costs 50 yuan ($7.70; 6.80 euros), about 15 times the cost of its regular brand.
"Twenty years ago, people drank bottled water because they were thirsty. Now, they drink it to wash down bubbly or sour wine," Zhong says. "Wherever there is wine, there should be (bottled drinking) water."
Nongfu Spring started as a subsidiary of Zhong's company, Yang Sheng Tang Group Ltd, in 1996, with the first plant opened at a reservoir in Zhejiang province. The brand steadily grew and by 2011 was generating revenue of 10 billion yuan.
Zhong says a major breakthrough came in 1999 when he announced the company would cease sales of its purified water to focus on mineral water, saying the former offered no health benefits. It led to an instant boost in sales.
"I used to be a journalist, so I know what makes the front page," he says. But (the sudden shift) also harmed us, as the day before the announcement we were still producing purified water."
The company also made headlines in 2013 - only this time for the wrong reasons, as it faced accusations of poor standards.
Over a period of a month, the Beijing Times newspaper ran 76 stories that questioned the quality of Nongfu Spring's products. The company responded by suing the paper for defamation.
Zhong says the coverage led to a 25 percent drop in sales that year as Nongfu Spring was pulled from shelves.
In the end, the Zhejiang provincial government conducted quality tests on samples for six production sites and, based on the results, declared the company's water safe.
"It was totally fabricated," Zhong says of the newspaper's claims.
Now back as the market leader, Nongfu Spring is looking to expand globally and diversify, with its portfolio already including fruit juices, Chinese tea and flavored water with added vitamins.
"It's already on our timetable," the chairman says, adding that the company plans to go global in 2017.
xujunqian@chinadaily.com.cn