Energy company sees opportunity on the horizon as 'going out' strategy harvests rich dividends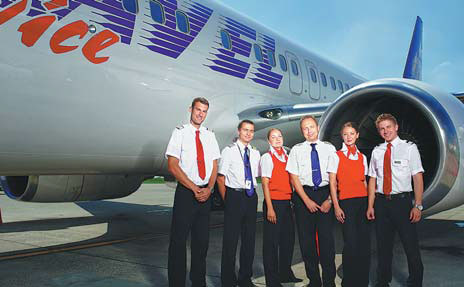 Crew members pose beside an aircraft of the Czech Travel Service, in which CEFC China acquired a 10 percent stake.
CEFC China Energy Co is a private enterprise aiming to serve the national industrial interest by building a modernized and internationally competitive corporation that expands cooperation in the international energy economy and achieves influence in the energy industry.
Since its establishment in 2002, CEFC China has gained international competitiveness and exerted brand influence in the energy and financial industries under the leadership of Chairman Ye Jianming over the past decade. The company is a Fortune Global 500 company, with annual revenue of over 220 billion yuan in 2015.
In 2015, World Brand Lab listed the company, which has a brand value of 41.26 billion yuan, as one of the World's and Asia's 500 Most Influential Brands. It was also honored as one of the Top Ten Most Influential Chinese Enterprises and Top Ten Most Internationally Competitive Chinese Enterprises by the China Most Influential Brand Names Summit Forum.
In recent years, by utilizing resources accumulated on its public energy diplomacy platforms, CEFC China has made full use of its advantages in resources, mechanism and brand. CEFC China is also seizing on the investment opportunities in the international energy industry to actively serve the Belt and Road Initiative. The company has an international platform and strategy underpinned by its terminals in Europe, which enables its acquisition of equities and rights of upstream oil and gas resources. With the Czech Republic as a strategic pivot, the company is engaging in international investment banking and promoting international industrial capacity cooperation to help transform and upgrade the Chinese economy.
I. Serve the Belt and Road Initiative by Energy Cooperation
CEFC China has developed downstream terminals in the European oil and gas market. Its main focus is on expanding upstream oil and gas resources and rights in Central Asia, the Middle East and Africa based on an integrated downstream terminal system. On Dec 14, 2015, in the presence of Premier Li Keqiang and Kazakhstan Prime Minister Karim Massimov, CEFC China signed a cooperation agreement in Beijing with KazMunayGas, the national oil and gas company of Kazakhstan, acquiring a controlling stake in KazMunayGas International.
KMGI owns refineries in Europe. It trades and transports an annual capacity of 14 million tons of crude oil.
It also owns over 2,000 gas stations in several countries including Spain, France, Romania and Bulgaria, and provides EPC (engineering, procurement and construction) services for oil and gas exploration, exploitation and refining. In the future, the company will acquire downstream terminal logistic enterprises in the Black Sea and Mediterranean Sea regions and in Central and Eastern Europe, including Turkey, Germany, France, Switzerland, Romania, Poland and Israel. The company will also continue making targeted investments in national oil companies. The acquisition of KMGI advances its business involvement in European terminals and the establishment of an integrated industrial network covering refineries, storage sites and sales centers in Europe.
Underpinned by its terminal network in Europe, CEFC China cooperates with the national oil companies of Kazakhstan, Qatar, Abu Dhabi, Chad and Angola to obtain oil equities and rights. It has established cooperation with KMG; with Abu Dhabi; with the Chadian government to obtain equities in upstream oil and gas blocks; with CNPC International Ltd over the equities and sales rights of the H block oil site in Chad; with CPC Corp of Taiwan to obtain equities and sales rights of oil and gas blocks in Chad; with Gazprom Neft to jointly invest in and develop three oil blocks in the East Siberian Regional Baikal Project; and with Yunus-bek Yevkurov, president of the Republic of Ingushetia of the Russian Federation, to transform and develop oil fields in Ingushetia and establish an energy investment bank. It has also created an energy fund with Qatar.
As China allows more refiners to use imported crude oil and to apply for import licenses, the oversupply in refined oil products has intensified in the Chinese market. It has become imperative to open up export rights to refined oil products and increase exports to balance domestic and overseas resources. Consequently, deepwater ports with storage facilities along coasts and rivers in China have become key strategic points. CEFC China is constructing a national oil reserve and commercial storage base with a planned storage capacity of 12 million cubic meters in Yangpu, Hainan province, and a large oil reserve base covering 10 million cubic meters in Rizhao, Shandong province. The company is working with the Rizhao Port Group to invest in the construction of energy logistics and warehousing facilities, including a 300,000-tonnage oil wharf, a 600,000-cubic-meter port oil warehouse and LNG receiving terminals. CEFC China is cooperating with the reserve storage of Abu Dhabi National Oil Co and with KMG in renminbi-denominated oil delivery via 2.8-million-cubic-meter storage facilities as part of the first phase of the Hainan Yangpu oil reserve base. Through Hainan Yangpu oil reserve base, CEFC China is processing resources and exporting refined oil products to overseas markets, mainly to Southeast Asia, making full use of the capacity of domestic oil refineries and increasing its reach in the international energy industry.
In line with the national strategy of developing a mixed-ownership economy, CEFC China is working with major State-owned enterprises to jointly obtain overseas energy resources and equities. It has cooperated with China Railway Engineering Corp to found CREC Central Asia Natural Gas Logistics, CREC & CEFC Lubricant, Wuhai Tietong Petroleum and other companies. This route transports oil and gas from Central Asia into China through its Dostyk Gas Terminal by railway, providing transportation and sales services for liquefied natural gas, petroleum products and lubricant. It holds stakes in the refineries of China National Chemical Corp to process crude oil from Russia; purchased nearly 20 percent of equities of China Natural Gas Corp, a subsidiary of Kunlun Energy Co Ltd, to broaden its network of natural gas terminals; and signed a cooperative deal with China Shipbuilding Industry Corp to convert large oil tankers into floating oil storage units in Singapore with an aim to form an integrated management network of oil storage, transport and trading covering China and Southeast Asia. The company is also striving to build national petroleum reserves and logistics bases by collaborating with Guangdong Guochu Logistics in managing petroleum storages and wholesales.
II. Establish Financial Platforms and International Investment Bank
CEFC China has drawn up a financial development strategy for its energy business layout. It has obtained licenses for a full range of financial services, aiming to build an international investment bank highly specialized in energy and finance. To this end, the company has established financial platforms in securities, trust, futures, banking, financial assets transaction and online insurance to increase its financial returns and reduce costs.
CEFC China became a majority shareholder of J&T Bank when it signed an agreement in the presence of the heads of state of China and the Czech Republic. As one of the joint initiators, J&T Bank, on behalf of the Czech government, will set up an investment fund for 16 Central and Eastern European countries together with the Industrial and Commercial Bank of China. CEFC China is also on track to set up an Energy Industry Fund with Abu Dhabi and an Energy Development Fund with Gazprom Neft, to acquire and develop upstream resources and securitize its acquired assets in a step-by-step process.
III. "Going out" faster with Czech Republic as a Pivot Point
Lying in the heart of Europe, the Czech Republic is endowed with strong geostrategic advantages and well-equipped with mature industries and advanced manufacturing technologies. In recent years, Sino-Czech ties have developed and mutual political trust has deepened. The bilateral relations are at their best in history.
The Belt and Road Initiative offers a golden opportunity for Chinese enterprises to expand investment and seek cooperation in Europe. On Nov 26, 2013, Premier Li Keqiang and leaders of CEE countries attended the China-CEEC Summit in Romania to work with all parties in formulating and issuing the Bucharest Guidelines for Cooperation between China and Central and Eastern European Countries, a step to deepen the China-CEEC "16+1" cooperation mechanism.
In keeping with the initiative, CEFC China took the lead in making industrial investment in the Czech Republic and mapped out its European market strategy, acting as a vanguard of Chinese enterprises in investing in the Czech Republic and CEE countries. On Oct 27, 2014, CEFC China signed a cooperation agreement with J&T Finance Group at the Great Hall of the People in Beijing, which was witnessed by the heads of state from both countries. With banking and financial services as its core businesses, J&T is also engaged in energy and culture. Its subsidiary banks have branches in many European countries, including the Czech Republic, Slovakia, Switzerland and Russia. Through private placement and rights issue, J&T sold 50-percent of its shares to CEFC China, and the latter became the first Chinese private company to have a majority stake in a European bank. CEFC China is the largest investor in the Czech Republic among Chinese companies in terms of its investment volume.
Upon a visit to CEFC China headquarters in Shanghai on Sept 5, 2015, President Milos Zeman of the Czech Republic met with CEFC China Chairman Ye Jianming and witnessed the signing of multiple cooperation projects between the company and its Czech partners.
CEFC China established its second headquarters in the Czech Republic, making international investment with the European country a pivot point and playing the role of an international investment bank. It also acquired several companies in the nation, including an airline as well as media and brewing companies.
With its strength in overseas resources and brand presence, CEFC China will make further efforts to cooperate with State-owned companies in jointly "going out" with an aim to promote international industrial capacity cooperation and upgrade Chinese domestic industries.
zhuanti@chinadaily.com.cn