Plenty of room for growth for inbound tourism
The headlines are flattering.
Countries across the world are going the extra mile to lure Chinese tourists, offering multiyear visas and an array of services that make them feel at home.
And rightly so.
Over the past few years, Chinese tourists have emerged as the highest-spending visitors in the world, overtaking German travelers. They have been propping up the economies of cities and towns, big and small.
According to Brand USA China Market Update for 2014, an average Chinese tourist spends between $6,000 and $7,200 per trip to the United States.
In 2003, a mere 200,000 Chinese tourists visited the US. That number has grown exponentially since then, reaching almost 2.2 million in 2014 and 2.7 million in 2015.
Data from other countries also show similar growth.
In Australia, Chinese tourists have become so critical to the economy, the government said this month that their spending accounted for 6 percent of the growth last year.
Such is the power of Chinese travelers, there is even a Germany-based organization dedicated to studying outbound tourism from this country.
It has also become fashionable for Chinese companies to take thousands of employees on corporate jaunts to beautiful locales.
While China's outbound tourism scales new heights, the inbound market remains stagnant. There is still plenty of room for growth.
Figures released by the China National Tourism Administration show just under 26 million foreign tourists visited the country in 2015, a drop of 1.4 percent from the previous year.
Ironically, 2015 was the year the UN World Tourism Organization said "international tourism reached new heights" with an annual growth of more than 4 percent and global arrivals hitting nearly 1.2 billion. Arrivals in the Asia-Pacific region rose 5 percent reaching 277 million, UNWTO said.
What is hindering the growth in inbound tourism then?
China is home to the largest number - 48 - of UNESCO World Heritage Sites (that is right, some of Italy's 51 sites are also shared by other countries). Another 55 Chinese sites are on a tentative list.
Yet, it seems we are not marketing ourselves well. Just look at Dubai for inspiration.
The small city, with no World Heritage Site (there is just one in the entire United Arab Emirates, of which Dubai is the commercial capital), was able to attract more than 14 million tourists in 2015, including some 450,000 visitors from China.
Dubai's aptly named Department of Tourism and Commerce Marketing does a great job in attracting visitors. It has opened offices around the world, including four in China, to promote the city.
Even Iran, a relatively new destination for Chinese travelers, is planning to open three tourism offices in China by the end of the year.
In contrast, the CNTA has yet to open an office in the entire Middle East, a major source of global tourism.
There are other drawbacks too.
Industry sources say visa regulations and high fees are also deterring some potential foreign visitors, especially in Europe, from considering China.
A report released in January by the London-based BMI Research Group cited the visa regime as one of the weaknesses of the Chinese inbound market.
"Visa restrictions can deter potential visitors who may choose more accessible destinations," BMI's 2016 China Tourism Report said.
In the Beijing business district of Sanlitun, a huge billboard advertises the beauty of faraway Patagonia, a region shared by the South American countries of Chile and Argentina.
It reflects the insatiable appetite for foreign adventures among the Chinese.
The constant flow of Chinese tourists to other countries is not just a sign of rising affluence at home, it is also a sign that foreigners are doing their marketing job well.
With a new marketing strategy we could do the same, and do it better!
Contact the writer at abdul@chinadaily.com.cn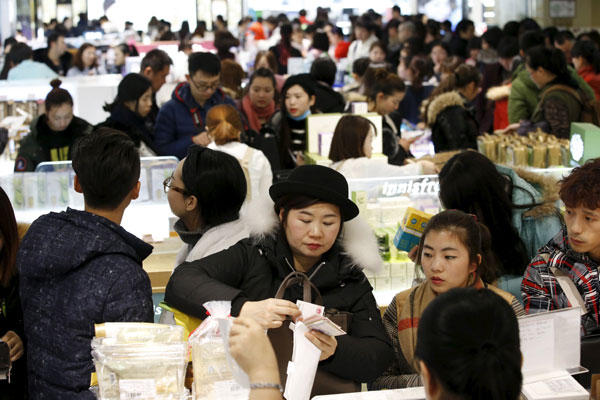 A Chinese tourist pays cash at a Lotte duty free shop in central Seoul, South Korea. Reuters