Hand-embroidered special-occasion dresses like the qipao, a body-hugging one-piece outfit, are undergoing a revival in the Chinese market, thanks to firms such as Tengxun Bridal and, in a sense, the Chinese first lady.
Lin Shuang, 35, founded Tengxun Bridal studio in 2009 after quitting her job with a major state-owned trading company in Beijing.
She grew up in the hutong, traditional courtyard-home neighborhoods, of the Wangfujing area in Beijing. Her childhood extracurricular activities included traditional Chinese drawing, calligraphy and time-honored musical instruments.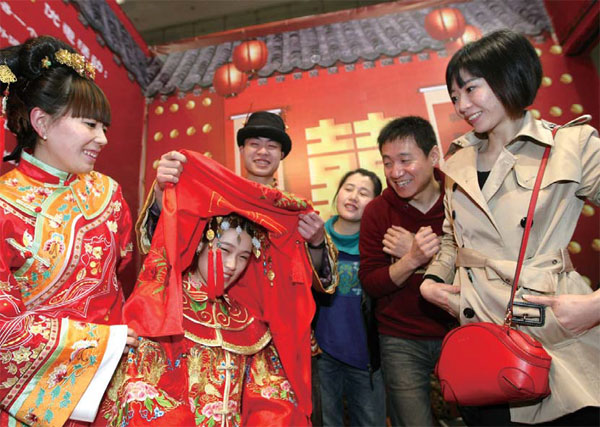 Business promotion staff dress in Chinese wedding clothes to promote folk wedding supplies during a recent wedding fair in Chongqing. Provided to China Daily
When she took the plunge into the traditional Chinese fashion business, it was not considered a good move. Back then, fashion was not seen as an occupation with a bright future.
But Lin, a college graduate who majored in law, sensed business potential in the segment when her quest for a stunning qipao for her soon-to-wed sister turned into a frustrating search.
Up to 400 hours over six months could go in to the making of a qipao due to the intricate, painstaking sewing and embroidery work needed.
"In the run-up to her wedding, my sister and I set out to buy a good-quality but affordable qipao," Lin says. "But our search was in vain. We were very disappointed with the rough fabrics used."
So, Lin started to design a qipao herself. She asked an established tailor whom her family had known a long time to make one based on her design sketches.
The qipao proved a massive hit. Everyone at the wedding raved about it. That encouraged Lin to convert a seemingly one-off exercise into a business.
Now, Lin's studio has grown into one of the largest high-end traditional Chinese wedding gown and clothing stores in Beijing.
It features products from the bride's head-covering to traditional Chinese dragon and phoenix gowns, qipao and Chinese shoes. On average, the store serves more than 200 newlyweds a year.
That's a far cry from the time when traditional Chinese wedding gowns were not so popular with newlyweds. Young Chinese were heavily influenced by Western styles then.
Even today, traditional Chinese wedding clothing takes up only a 10 percent share of the special-occasion garment market.
"Brides in China often think about only dresses that could make them look like a princess in the West," says Shi Yiping, a dress designer at the Beijing Institute of Fashion Technology. "Traditional Chinese gowns have been considered old-fashioned and outdated for many years now."
But in recent years, particularly after the country's first lady, Peng Liyuan, showed up at state events wearing traditional dresses that were an elegant mix of Chinese cultural elements and modern clothing, local fashion has been attracting attention again, Lin says.
"People have begun looking at qipao and traditional Chinese gowns from a new perspective," Lin says. "Qipao now can be classic, stylish and elegant. The red colors, and gold and silver threads of embroidery of a dragon, phoenix, fish and peony, are symbols of a great marriage and good luck as well."
Last year, Tengxun doubled its sales. (Lin declined to disclose the numbers.) Investors are making a beeline for a stake to help expand her business. So much so that Lin has decided to shut her line of Western wedding gowns and focus entirely on traditional Chinese gowns.
In order to ride the newfound craze for qipao, Tengxun is sharpening its focus on targeted customers and also streamlining its management. "I work closely with the leaders in the wedding industry, particularly wedding planners," Lin says. "As soon as they sign on customers seeking a special Chinese wedding or a Chinese style section in their wedding, which requires traditional Chinese gowns, they recommend our service."
Given that specially made wedding gowns tend to be expensive, Tengxun's strategy works better than general advertising, Lin says. "Our products are priced from 8,000 yuan to 100,000 yuan ($1,231; 1,096 euros to $15,394; 13,697 euros). There is no need for us to compete with retailers on Taobao.com who sell Chinese wedding gowns at 1,000 yuan apiece."
"Hand drawings bring out more personal emotions and styles. Just like in the old times, I hope each gown I design and make will become a legacy that will be carried through generations of the bride's family," Lin says.
wangzhuoqiong@chinadaily.com.cn