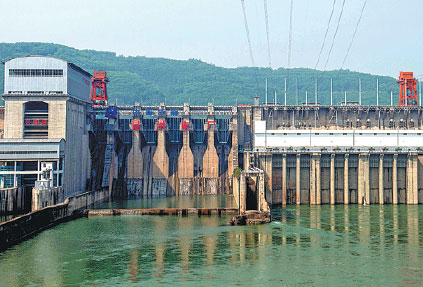 Jinghong Hydropower Station in Yunnan province is discharging about 2,000 cubic meters of water a day into the river to help Vietnam combat drought. Hu Chao / Xinhua
Increase in water discharge sends positive signal on reinforcing close liaison, ambassador says
Vietnam "endorses and speaks highly of" the decision by China to discharge more water downstream on the Lancang-Mekong River to help relieve serious drought in the country, according to the Vietnamese ambassador to China.
After Vietnam asked for help earlier this month, China decided to discharge more water from the Jinghong Hydropower Station in Yunnan province to downstream areas from March 15 to April 10, benefiting five regional countries.
"It is a positive signal for reinforcing close cooperation in the sustainable management and use of water resources," Dang Minh Khoi said in an interview with China Daily.
China offered the help shortly ahead of the first Lancang-Mekong Cooperation Leaders' Meeting, which is scheduled to be held in Sanya, Hainan province, on Wednesday.
The Lancang-Mekong River runs from China through Myanmar, Laos, Thailand, Cambodia and Vietnam.
Wednesday's meeting will mark a milestone in cooperation on common development between all six countries, Khoi said.
Vietnam, where the river reaches the sea, emphasizes coordination and cooperation efforts regarding the use of the river water, the ambassador said.
China, where the river rises, "plays a very important role in regional cooperation mechanisms", especially the Lancang-Mekong Cooperation mechanism, first proposed by Beijing, he said.
After the mechanism was established, "it was the first time that the six countries along the river had joined hands in achieving sustainable development" along the waterway, he said.
The mechanism will be of great significance to the region's sustainable development and will boost ties among the six countries, he added.
Khoi said the leaders' meeting will result in a joint statement being issued to outline the principles and directions for cooperation, and another joint statement on boosting cooperation on production capacity as well as a list of initial goals.
With these documents, hopefully the mechanism will facilitate existing cooperation mechanisms within the region and create added value in cooperation among the six countries, he said.
Khoi said Vietnam has proposed some programs for the initial goals to serve the common interests of all parties. The mechanism will "make tangible contributions" to protecting water resources and the sustainable use of water, he said.
This year marks the 25th anniversary of the relationship between China and the Association of Southeast Asian Nations. Khoi said that as half of the 10 ASEAN members take part in the mechanism, it will "effectively boost the strategic partnership between ASEAN and China".
He said Sino-Vietnamese relations "maintain an improving and developing momentum", with the Party chiefs of both countries exchanging visits last year and reaching important consensus, including ways to tackle maritime issues.
zhangyunbi@chinadaily.com.cn