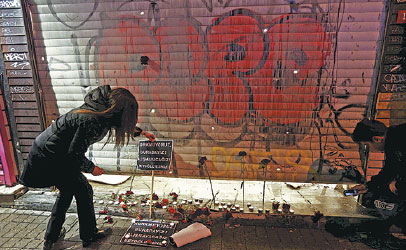 A woman places carnations and a sign at the scene of a suicide bombing on Istiklal Street, a major shopping and tourist district, in Istanbul, Turkey, on Saturday. The signs read, "We are not afraid, we are here! We will not get used to it!" Murad Sezer / Reuters
A suicide attack on Istanbul's main pedestrian shopping street on Saturday killed five people, including two dual nationality Israeli-Americans and one Iranian citizen, and wounded several dozen others, in the sixth suicide bombing in Turkey in the past year.
Prime Minister Ahmet Davutoglu issued a statement saying there were several foreigners among the victims.
"Turkey has always said that terrorism has no religion, no language and no race and that terrorism has to be condemned no matter who the perpetrators are," he said. "This sad event has shown once again how right our position is."
There was no immediate claim of responsibility but suspicion fell on the Islamic State group and on Kurdish militants who have claimed two recent attacks in the capital, Ankara. DNA samples were taken from family members of two possible Islamic State militants who could be the bomber, the private Turkish Dogan news agency reported.
The explosion ripped through Istiklal Street, a popular destination for tourists and locals in a central neighborhood that is home to cafes, restaurants, foreign consulates and a government office. Istanbul Governor Vasip Sahin said there were five fatalities and that investigations were still under way. An interior ministry official said the death toll included the suicide bomber.
Police swiftly sealed off the area as ambulances and a forensic team rushed to the scene after the bombing about 11 am. Normally packed cafes were either closed or virtually empty, with business owners making frantic calls to loved ones to assure them of their safety. Rattled tourists wondered where to go.
"It was one loud explosion," said Muhammed Fatur, a Syrian who works at a butcher shop near the scene of the explosion. "Police came to the scene and sealed off the area." The site remained off limits until shortly after sundown when tentative pedestrians and shopkeepers returned to inspect the damage.
Israeli Prime Minister Benjamin Netanyahu confirmed that at least two of the victims were Israelis. An Israeli diplomat in Istanbul said the two also held American citizenship.
"We can sadly confirm that two Israeli civilians were killed and we might have a third fatality," he said.
Israel was cooperating with other intelligence agencies to determine whether the attack was directed at Israelis specifically. Two planes were being sent to Istanbul to evacuate others wounded in the blast.
The majority of the Israelis caught up in the attack were on a culinary tour of the city, officials said. The group had just eaten breakfast nearby when the blast ripped through the street.