Digital red envelopes up for grabs
App adds twist to traditional gifts as people toss electronic cash to friends
Businesspeople regularly use the social media platform WeChat to promote events but when Sara Jane Ho did it for the first time, she was asked to pay with a WeChat red envelope.
"I was promoting a new course on several WeChat groups formed by clients, and then someone said jokingly: 'Sara, if you place an advertisement here, you need to pay'," says Ho, the founder and principal of the Institute Sarita, a high-end finishing school established in Beijing in 2013.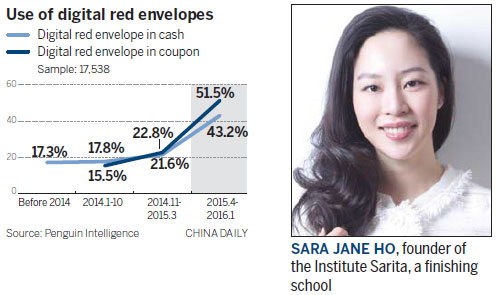 "At first I didn't understand it, then my partner told me to send over a red envelope of 100 yuan ($15; 14 euros) to the group, so people could grab it for fun. This was my first WeChat red envelope."
In China, cash gifts are traditionally given in distinct red envelopes during weddings and the Chinese New Year. WeChat launched virtual red envelopes in 2014 and what was just a straightforward method of transferring cash took on a fun twist where recipients "grab" part of the gift.
For example, if a person in a WeChat group of 10 sends 100 yuan as a gift and says any one can have a maximum of 20 yuan, the first five to "grab" get the money while the other four miss out.
"Red envelopes add a sense of atmosphere and strengthen interaction," Ho says. "The amount everybody gets could be different, so it is funny to see the comparisons."
Ho was born in Hong Kong and grew up in Europe and the United States. She studied at Institut Villa Pierrefeu, a finishing school in Switzerland, and Harvard Business School.
In fact, Ho bought her first smartphone in 2012 so she could use WeChat when she saw most of her Chinese business partners and clients using it. She now has more than 4,700 friends on WeChat, including senior executives and diplomats.
The WeChat red envelope was launched during the 2014 Chinese New Year with a stipulation that the amount should be less than 200 yuan. Figures from Tencent Holdings Ltd shows that during that festive period, about 8 million users snapped up 40 million red envelopes.
During this year's Chinese New Year's Eve, more than 420 million people gave or received the envelopes and about 8 billion red envelopes were sent out that day, eight times the figure for the 2015 Chinese New Year's Eve.
"Sending red envelopes is a tradition in China, especially during the Chinese New Year. The WeChat red envelope is an innovative way for people to send greetings. It also gets people into the habit of using WeChat payment, because you need to link it to your bank account," says Ren Chao, a researcher with big data analysis and ratings firm Analysys International.
"For Internet companies, functions such as WeChat payment are an important part of the whole Internet ecosystem, as many other functions such as hailing taxis or shopping are based on online payment."
chenyingqun@chinadaily.com.cn