A memorial hall in Huai'an, Jiangsu province, dedicated to Iris Chang, the author of The Rape of Nanking: The Forgotten Holocaust of World War II, will open to the public at the end of the year, according to the local government.
Chang's book, published in 1997, chronicles the atrocities committed by the Imperial Japanese Army during the War of Resistance Against Japanese Aggression (1937-45). It became a best-seller and introduced the Nanking Massacre, which began near the end of 1937 and lasted for months, to a wide audience of Western readers.
Chang took her own life in 2004, aged 36. She had been battling with depression. Huai'an, her ancestral home, determined to build a memorial hall in honor of her contribution to the preservation of history.
Zhu Aimin, former deputy director of the Huai'an publicity department, who has researched the history of Chang's family, said it was necessary to raise awareness of the author's life and work.
"Her contribution to justice and peace for the human race impressed lots of people," Zhu said.
With 1,000 square meters of floor space, the hall will display photos representing Chan's life and study, as well as video recordings featuring her interviews.
All the materials were donated by Chang's parents and members of the Global Alliance for Preserving the History of WWII in Asia, a nonprofit grassroots organization that has dozens of chapters in North America.
The Nanjing Massacre Memorial Hall in Nanjing, Jiangsu province, has a statue of Chang and holds the original manuscript of her book and other materials.
Another folk museum in Nanjing also exhibits some articles that belonged to Chang, including her business card and glasses.
Ying-Ying Chang, the author's mother, said her daughter had heard a lot about her ancestral home but had never been there.
Upon returning home to San Jose, California, she and her husband, Chang's father, sorted photos and sent 700-800 to the memorial hall.
Iris Chang spent her last days in San Jose, where a new park bearing her name in honor of her contribution to the local, national and global community, is expected to open in 2017.
Contact the writers at liazhu@chinadailyusa.com.cn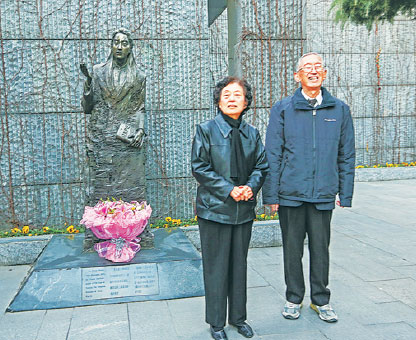 Parents of Iris Chang stand beside her statue in Nanjing, Jiangsu province, in December 2014. Provided to China Daily