China Women's Development Foundation and Uber China have launched a joint initiative to encourage more women to work.
Its first activity will be on Saturday, the weekend before International Women's Day on March 8, when women are being asked to work as Uber drivers for the day, during which their income will be donated to one of the foundation's many charitable causes.
Passengers will also be encouraged to donate to the program through the payment section on Uber, and it is hoped the promotion will also inspire more women to start their own online businesses.
"In the past, our work has provided detailed guidance in various ways for women to be employed or on how they can launch their own business," said Qin Guoying, vice-chairwoman of CWDF. The initiative will be a platform to support women's employment.
She said CWDF and Uber China have different strengths which could become a potent combined service for women in the workplace.
Uber offers an open and convenient platform for public participation, a respected brand and a powerful database, she said, while the foundation has rich experience in managing charitable programs, and a strong network of women's federations across the country.
The foundation has been working on promoting mothers' issues in the workplace since 2001, and has raised nearly 200 million yuan ($30.53 million) to help some 300,000 women find jobs or start their own business.
Liu Zhen, Uber's strategic leader in China, said: "We provide a flexible working opportunity for women in China, which allows many to work and still take care of their family at the same time."
She said that the new initiative will allow women to share their experiences online, which eventually is hoped will create more jobs.
More than 300,000 Chinese women are registered Uber drivers, just over half of whom have joined the services since June 2015, and Liu said she hopes the company will double that number by the end of this year.
Liang Shuili, a BMW owner, already works as a Uber driver in Shenzhen, Guangdong province.
In 2013, her husband went bankrupt, which seriously affected the whole family.
"The worst knock-on was that we could not afford my 5-year-old daughter's kindergarten fees for two semesters," said the 40-year-old, who was then running her own clothing business.
When that business failed, too, because of the family's changed circumstances, the couple thought of selling the car, but even that amount would not have helped much.
Instead, a friend recommended she sign up as a Uber driver, and soon she was earning 20,000 yuan to 30,000 yuan a month.
"Most importantly, I got to know some friends in the new job who had also had businesses fail and like me were starting over," she said.
"That alone offered me great support."
luowangshu@chinadaily.com.cn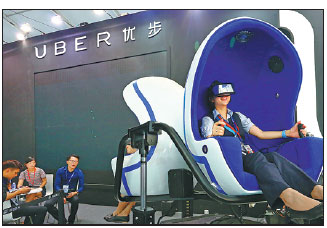 An Uber Technologies Inc stand at the Internet expo in Foshan, Guangdong province.Liu Jiao / For China Daily