Experts say holiday crowds - and their leftovers - raise risk of animal-human conflict
A large nature reserve in South China says safety measures are being taken to better prevent conflicts between wild elephants and visitors after an incident during Spring Festival.
A wild Asian elephant known as Zhusunya damaged a total of 19 cars in two separate incidents at Xishuangbanna Wild Elephant Valley, in Yunnan province over the Chinese New Year holiday.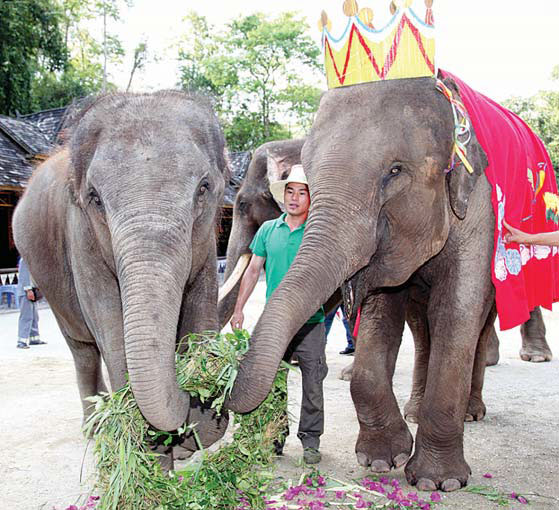 A birthday party was held for an elephant at the Xishuangbanna Wild Elephant Valley in Yunnan province in June. Provided to China Daily
No casualties were reported, but the news attracted much attention in the Chinese media and online amid fears over tourist safety.
Park authorities say the incident happened on a national highway where visitors had parked private vehicles. Zhusunya, a 12-year-old male, damaged bodywork and smashed windows with his legs and trunk in two rampages that lasted only minutes on Feb 12 and 14.
Elephants regularly cross the highway, which runs through their habitat, but park rangers say they rarely linger. It's believed Zhusunya may have been attracted by the large amount of litter and leftovers dropped by visitors taking advantage of the Spring Festival break, an annual tourist peak.
Since the incident, the park's authorities have moved to assure people that the area is safe and that work is underway on new security measures.
More warning signs will be put up along the highway to alert tourists about the elephants, while garbage collection will be increased to remove any trash that might attract wildlife, the authority says.
In addition, it says, work to move the visitor center from inside the park to the outskirts will be completed in July. From there, visitors will have to board a shuttle bus to enter the reserve, to reduce the number of cars parked close to the animals' habitat.
"No one has ever been hurt by an elephant in the valley," says park ranger Yang Ying, a fact he largely puts down to an observation system in place since 2005 that warns of any approaching elephants.
Tourists are also guided along a protected circular path inside the reserve that allows them to observe the animals in safety.
The valley is an active area for roughly 70 wild Asian elephants, one-fourth of the total population in China. The area makes up part of Xishuangbanna Dai autonomous prefecture, the entirety of which is classified as a state-level nature reserve.
Conflicts between humans and wild elephants have been a problem in the prefecture for more than 30 years, as the population of elephants has grown and as farmland has encroached onto their habitat.
In the 1980s, Yunnan had only about 100 Asian elephants left in the wild. However, since being classified as a first-class national protected animal and placed on the International Union for Conservation of Nature's list of endangered species, their numbers have swelled to between 250 and 300, according to Shen Qingzhong, director of administration for Xishuangbanna Natural Reserve.
Yet it has become common for elephants to wander into nearby villages, where they eat or trample crops, damage homes, and sometimes attack locals.
An adult elephant eats about 300 kilograms of plants a day. When they cannot find enough food in the forest, they head to farms.
Roughly 160,000 human-wildlife conflicts were reported in Xishuangbanna between 1991 and 2010, most of which involved elephants. These incidents resulted in direct economic losses running into hundreds of millions of yuan, while Shen says wild animal attacks kill on average two people a year.
To drive animals away, some villagers installed speakers in their fields to blast out loud music. "But the elephants are just too smart," farmer Yang Jiaxing says. "Once they work out they posed no danger, they just stand on the speakers and crush them."
He says the situation is so bad some families have given up growing crops. "We get nothing, no matter whether we work or not."
In the 1990s, people started to put electrified fences around their land. But Shen says the elephants discovered they could simply break the wire with their tusks or with stones.
So-called food zones and isolation zones have also been established between the animals' habitat and villages. Food zones, which now cover a total of 3 square kilometers, are filled with things elephants like to eat, such as bananas and plantain, in the hope they will return home after feeding. Isolation zones are filled with elephants' least-favorite plants, to deter them going further.
Both have had a limited effect, Shen says. "It's far from enough, but they can at least keep the elephants away from the farmland for three to five days, so that farmers can have time to harvest."
The growing number of tourists heading to Xishuangbanna has also exacerbated the situation. More than 1 million people visited between Feb 8 and 14.
"There were just too many people and too many private cars parked around Wild Elephant Valley, blocking the elephants' path," says Chen Yong, a senior wildlife protection officer in Xishuangbanna. He says the valley has to make an emergency plan every year for the Spring Festival tourism peak.
Ultimately, the best line of defense is awareness, Shen says.
Contact the writer at yandongjie@chinadaily.com.cn