Tech startup CEO aims to humanize the holograph
Vincent Yang, CEO and co-founder of Vancouver startup H+Technology, has a vision to integrate technologies seamlessly into human needs, and interactive holographic platforms are part of that quest.
Yang and his classmates Dhruv Adhia and Yamin Li founded H+ in 2012, after they completed their master's degrees at the Centre for Digital Media (CDM) in Vancouver.
Together, they worked out of a garage to create and test their first holographic platform, which later became known as their key product, Holus.
Holus is a portable, pyramid-shaped device, which converts digital content from computers, tablets or smartphones into a 3D digital experience. Unlike other virtual reality and augmented reality wearable technologies such as Google Glass and Microsoft HoloLens, Holus is a tabletop, freestanding device that seeks to invite collaboration and foster a communal experience.
In June 2015, the first Holus was successfully funded on Kickstarter within 19 minutes of its launch. By the end of the one-month campaign, it had raised nearly $300,000 and had 496 backers.
"We always put humans in the centre stage of technology innovation," Yang said. "With Holus, students can learn DNA structure or the solar system in class with presented information from multiple angles and physical interaction. Families can play computer games with content that comes alive, and interact in ways not possible with other gaming systems.
"The purpose and objective of Holus is to provide a social campfire experience where people can overcome isolation and stagnation with respect to information," Yang explained. "Holus is the first step in the holographic revolution, aiming to humanize technology by bridging the gap between the digital and physical world."
Yang's dream of inventing new things that resonate with human nature was seeded in his childhood. Born in Shanghai, Yang started learning art and drawing at the age of 13. It was the same year he got his first personal computer.
In 2006, Yang received his bachelor's degree in multimedia from the China Academy of Art. After three years of industrial working, he came to Canada and continued his graduate study at the Centre for Digital Media, for a professional master's degree program in digital media jointly contributed by four Vancouver universities: the University of British Columbia, Simon Fraser University, British Columbia Institute of Technology and Emily Carr University of Art and Design.
"This program focuses on cultivating multidisciplinary skills and practical exercises. It not only fits my interests and background, but more importantly, it is the place where I met my two other partners who share the same passion and interest with me," Yang recalled. "We three were all international students when we came here.
Yang said "video chat and voice call are how we communicate with our families from thousands of miles away. I remembered my parents always wanted to get closer to the screen to see my face clearer. What we are doing right now, by providing a much more interactive and holographic approach of communication, will help families living in different places get closer. That's how we solve our homesick problems."
After three years' development, the company has grown from three individuals to a group of 16 passionate people with unique backgrounds. H+ Technology is currently one of the rising stars in BC with a rapid growth rate. It received awards from NextBC, including Company of the Year and The Most Disruptive Innovation in 2015. Its business-to-business product HoloMax won the Vancouver User Experience Award in 2014.
HoloMax is a scalable and customizable version of Holus. H+ successfully collaborated with Ronald McDonald House BC to create the first digitally interactive, holographic play space for children at BC Children's Hospital.
"The interactive feature involves the scanning of stuffed toys from around the room to set off real-time visual & audio effects within the virtual environment," said Dhruv Adhia, Yang's partner and chief technology officer of H+. "It has been reported that spending time with our products has helped some children's rehabilitation by giving them an exciting reason to begin walking and interacting with their surroundings."
"If H+ is a car, Holus and HoloMax are two wheels currently driving this car moving forward. They are means, not goals. We are a tech company generating ideas, services and platforms that connect technology and natural human behaviors. We are never a manufacturing company only selling holographic products," Yang said.
The company currently put most efforts on the customization of SDK (software development kit), a system that allows any application developers, artists and designers to connect Holus with their programming. The desire is to build up an iTunes sort of platform in the holographic ecosystem among developers, customers and business partners.
Vancouver is home to one of Canada's hottest startup scenes, and flourishing local tech scenes rely on government support, including tax benefits and funding. Yang recalled how the collaboration with the National Research Council has helped H+ navigate a difficult period.
"It is not only about funding," Yang said. "We were an ambitious but inexperienced team. They provided us a veteran industrial technical adviser. It is a long-term mentorship. The advisor at the council has extensive experiences in this industry. He teaches us step by step, from how to craft a startup pitch to how to grow as a real company."
When asked if he had encountered any cultural barriers leading a Canadian company, Yang replied: "Product itself talks. My nostalgia never applies to my work. It is a globalized world. Our hardware partners are in Taiwan; our first group of clients are American. Canada has a diverse culture, which always inspires us to customize our platforms with better extensionality and compatibility. We never see culture differences as a disadvantage."
Yang believes "team, dream, execution" are the key elements that form a stable "iron triangle". And time adds a depth dimension to transform the triangle into a strong pyramid.
"Receiving challenges and failures are very common for startups. As long as we are getting closer to achieving our values, it is worth taking the risk," Yang said as he stared at his pyramid-shape holographic artwork.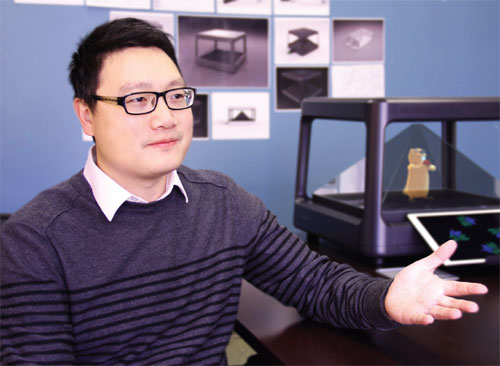 Vincent Yang, CEO and co-founder of H+ Technology, presents Holus at the company's Vancouver headquarters. Lukas Gadelha / for China Daily