High-tech hopes at innovative Shanghai Zhangjiang Boston Enterprise Park
The Shanghai Zhangjiang Boston Enterprise Park, a new international site for science and technology resource-sharing, is also expected to foster innovation between China and the US when it opens on Friday in Boston.
The park was established through strategic cooperation between the Administration Committee of Shanghai High-tech Industrial Parks and the US-China Partnership Committee.
"Closely following the task of building Shanghai into the science and technology center with global influence, the Shanghai Zhangjiang Boston Enterprise Park will take promoting the development of China-US science and technology innovation as (its) purpose," said an official from the management committee of the Zhangjiang National Innovation Demonstration Zone.
The demonstration zone is a clustering point for Shanghai's scientific resources and also a major innovator in helping make Shanghai a global science and technology hub. It has more than 1,400 development and research facilities and about 70,000 businesses, including more than 2,800 high-tech enterprises. Each year, a large amount of Shanghai's innovation happens there.
In recent years, the demonstration zone has continually made efforts to attract entrepreneurs and build a favorable innovation environment through policy support, financial aid and facilities construction. The Zhangjiang Boston Park is the demonstration zone's latest move to promote scientific innovation.
"Based on the enterprise park, barriers to technology innovation between China and the US are expected to break, which will promote the common development between the two sides and form an international demonstration zone for China-US science and technology cooperation," the official said, adding that the park will promote China-US cooperation in wider areas and more fields.
The Shanghai Zhangjiang Boston Enterprise Park covers more than 73,000 square meters, with 12,000 square meters of office buildings. Its spatial layout has characteristics of science and technology parks around the world.
After becoming a member of the park, enterprises and research institutes from China and the US can choose to settle in the park or establish industrial bases and conduct business in other places across the US.
Some cooperative projects have already started.
By integrating innovation resources from universities, enterprises, R&D institutions, incubators and service agencies, the park will produce seven major platforms providing one-stop services for China and US enterprises.
Six innovation centers, including biomedical technology, artificial intelligence, network information technology, health care, semiconductor integrated circuitry and energy and environmental projects will be built.
The six centers and seven platforms within the park can work together with the American Alliance for Industry to provide enterprises with a new place of cooperation, said Li Jiansheng, executive chairman of the US-China Partnership Committee.
The park also will establish close contact with universities, research institutions and American and Chinese technology companies and organizations, such as the New England Board of Higher Education and the American Alliance for Industry.
So far, the Zhangjiang management committee has established 19 overseas incubator innovation bases. Among the locations are Haifa, Israel, Singapore, Florida, San Francisco, Hamburg and Bremen in Germany, Italy and Japan.
wanghongyi@chinadaily.com.cn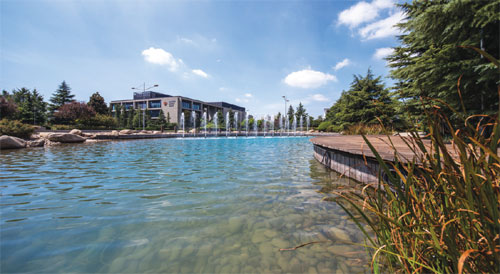 Shanghai Caohejing Hi-Tech Park, one of the sub-parks of Zhangjiang National Innovation Demonstration Zone. The park is an economic and technological development, industrial development, and import-export processing zone. Provided to China Daily