London mayor sides with 'No' vote in blow for PM
Politician seen as a potential successor to Cameron says he wants to leave EU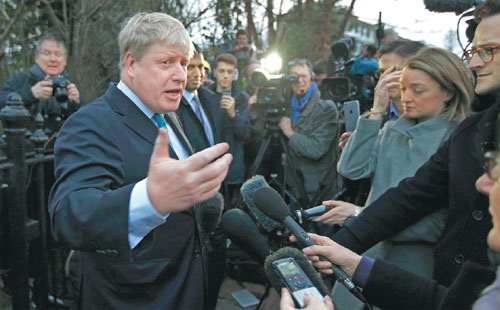 London Mayor Boris Johnson speaks to the media in front of his home in London on Sunday. Peter Nicholls / Reuters
London's mayor Boris Johnson threw his weight behind the campaign for the United Kingdom to leave the European Union on Sunday, in a blow for his old friend and rival Prime Minister David Cameron who had appealed for his backing.
"After a great deal of heartache. ... I will be advocating vote 'Leave'," Johnson said, making his long-awaited announcement to a large crowd gathered outside his home in north London.
Johnson, a popular politician from Cameron's Conservative Party who is seen as a potential successor to the PM, said he wanted ties with Europe based on "trade and cooperation" and not "a political project".
He said Cameron had done "fantastically well" in negotiating concessions from EU leaders at a summit last week that paves the way for a membership referendum on June 23.
But he added: "I don't think anybody could realistically claim that this is fundamental reform of the EU or of Britain's relationship with the EU".
The declaration will be seen as a key victory for supporters of a UK's departure from the EU - or "Brexit".
In a column for the Daily Telegraph on Sunday, Johnson said that the EU project had "morphed and grown in such a way as to be unrecognizable" and that there was nothing xenophobic in wanting to quit.
Chance to change
He said the vote was a once-in-a-lifetime chance to change UK's relations with Europe.
Compared to other anti-EU politicians, the mayor is popular even with those who do not share his political views, thanks to his witty sound bites and shambolic appearance.
"I'm really disappointed that he's backing leave because I think we should stay," said Andy Burton, 36, a director at a healthcare company who watched Johnson make his statement alongside around 70 other passers-by.
"He's just got a real presence, he's very popular, he will sway Londoners".
The Leave. EU campaign, one of the groups advocating Brexit, welcomed Johnson's endorsement.
But Will Straw, executive director of the Britain Stronger in Europe campaign, said Johnson and other pro-Brexit politicians had "no consistency or clarity on what leaving Europe means for the UK".
Cameron had made a last-ditch appeal to the charismatic Johnson in a BBC interview earlier on Sunday.
AFP - Reuters