Investment in Africa 'should be the focus'
China's economic relationship with Africa should change from focusing mainly on trade and project contracts to strengthening investment, says Xu Weizhong, the executive director of the Institute of African Studies at the China Institutes of Contemporary International Relations.
Xu says China's economic relationship with Africa has had two main drivers in the past: trade and project contracts.
"But if the China-Africa relationship wants to develop deeper and sustainabley, the big driver should be China's investment in Africa," he says.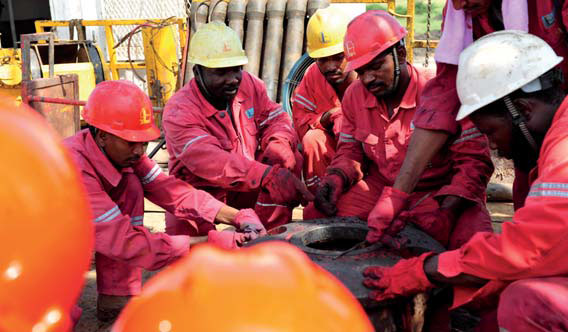 Local employees working for Sinopec at a project in Sudan participate in a training course. Tong Jiang / For China Daily
The institute's report says China-Africa bilateral trade was about $220 billion last year, but China's cumulative investment in Africa was only $30 billion. China-Africa trade volume accounts for about 20 percent of Africa's total foreign trade, and China has been Africa's biggest trade partner for seven years in a row.
"China-Africa trade volume is already very high, and most contract projects are already done by Chinese companies, so the potential in these two aspects won't be too much. But in investment, the potential is quite big," Xu says.
"Many products made by Chinese SMEs are usually not only able to satisfy the demand of the destination country, but also that of neighboring countries.
"Moreover, fluctuating commodity prices affect the project contract business a lot, and if Chinese companies continue to focus on it, they are likely to meet with more financing risks."
Xu says Asia's economic growth is the fastest in the world, with sub-Saharan countries ranked second.
He says two things in Africa - rapid urbanization and a growing population - provide great investing opportunities for Chinese companies. "I have visited many African countries, and many of their cities look like what China was going through at the beginning of reform and opening-up in the 1980s, with new buildings being constructed everywhere, which gives Chinese companies many opportunities," he says.
Africa's economic development used to rely on primary goods, but now it wants to develop its manufacturing strength and industrialize.
"China's manufacturing industries have overcapacity, and these surplus capacities are what Africa needs," he says. "From this point of view, I think Europe and the US cannot replace China's role in Africa, as their products are too high-end for the market right now, and it will be emerging markets that will compete with Chinese companies."
Another sector with potential is agriculture, Xu says. The focus should shift from the cooperation model mainly based on aid to commercial operations such as processing and storage of agricultural products.
Chu Yin, a researcher with the Center for China Globalization, a think-tank based in Beijing, says that rapid urbanization and quick population growth requires not traditional aid but investment that offers employment to local people.
He suggests that China also offer professional training to local workers.
He says their research on Chinese companies investing in Africa found that in a big shoe factory in Addis Ababa, capital of Ethiopia, the salary of a local worker with good skills is one-sixth that of a Chinese worker and their productivity is about 70 percent of the latter.
"It means there are two things that could be improved: One is to strengthen the training of African workers; another is to groom Chinese or local managers who understand local culture and regulations to lead local teams rather than having thousands of Chinese workers there."
He says that more Chinese professional training schools and companies should also invest in Africa and teach young people technical skills and other knowledge that would also benefit the China-Africa relationship in the long run.
chenyingqun@chinadaily.com.cn