Chinese-American NYPD officer's trial begins
The trial of a Chinese-American New York City police officer for second-degree manslaughter in the fatal shooting of an unarmed man in Brooklyn began Monday with opening statements from both sides.
Prosecutor Marc J. Fliedner said Monday in state Supreme Court in Brooklyn that NYPD Officer Peter Liang acted recklessly in discharging his firearm in a darkened stairwell, and in failing to help Akai Gurley, 28, the man who had been shot.
"Akai Gurley is dead today because he crossed paths with Peter Liang, who is sitting here," said Fliedner, who serves as chief of the civil rights bureau at the Brooklyn district attorney's office.
Rae Koshetz, the defense attorney for Liang, said her client committed no crime, adding that the gun went off accidentally.
"This is not a referendum on policing in the United States," Koshetz said. "Peter Liang had no intent to hurt anybody."
Both sides agree that while Liang was on patrol on Nov 20, 2014, at the Louis H Pink Houses in East New York, he discharged his gun and a bullet, said to have ricocheted off the wall of the stairwell, killed Gurley.
After the shooting, Liang did little to help Gurley, Fliedner said in his opening statement.
Instead of helping Gurley after the gun went off, Liang "stood there whining and moaning about how he could get fired", Fliedner said.
Liang and his partner walked past Gurley, and neither officer stopped to help him by administering CPR or any other emergency aid, Fliedner told the jury.
"Neither [Liang] nor his partner asked if Akai Gurley was OK; neither asked if Akai Gurley was breathing or had a pulse," Fliedner said. "A police officer - this police officer -never even knelt down and try to fix what he'd done."
Koshetz said Liang drew his weapon because he was heading to the roof of the building, which can be a "dangerous place" in police operations, she added.
Initially, he had no knowledge that a bullet had hit anyone, but "he was in a state of shock and was hyperventilating," when he found out, she said. When Liang realized what had taken place, he tried to radio for help but could not.
"His ears are ringing, he's hyperventilating, and by the time the first police supervisor arrives, Peter is unable to communicate except to say, 'I shot Akai Gurley by accident,'" Koshetz said.
An ambulance later took Liang to the hospital, she added.
Brooklyn Supreme Court Justice Danny Chun announced in October that Liang would go on trial in January.
In February 2015, Liang pleaded not guilty to second-degree manslaughter and other charges in connection with Gurley's death.
Charges against the police officer have prompted a debate among members of the community about the role police have had in the deaths of civilians.
Phil Gim, a Chinese-American businessman in Queens who supports Liang, said he sees Liang's prosecution as a response to the officer's Asian-American heritage.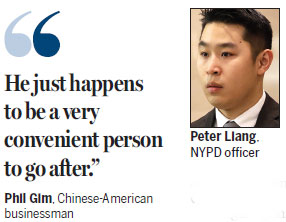 "He just happens to be a very convenient person to go after," Gim said in a Monday interview with CBS News.
Lumumba Akinwole-Bandele, senior community organizer for the NAACP's Legal Defense and Educational Fund, said the case is "a good sign the DA's office is moving in the right direction". "But we have a long way to go," she told CBS News.
In May, the Gurley family filed a civil lawsuit against Liang, Shaun Landau and the city's housing authority on behalf of Gurley's daughter and mother.
On the night of the incident, Liang - who had been on the force for less than two years - and his patrol partner, Landau, were working in the East New York section of Brooklyn in one of the city's housing projects.
Liang and Landau were patrolling a stairwell when Liang's gun, which was drawn, went off, police said. New York Police Commissioner William Bratton said in November that the fatal shot "appears to be an accidental discharge" of Liang's weapon.
Court documents presented by the prosecution said that Liang and Landau argued for two minutes over who would report the shooting and waited nearly 20 minutes before calling in an "accidental fire" to their superiors.
During Landau's grand jury testimony, he said he recalled Liang repeatedly telling him the discharge of the weapon was "by accident".
jackfreifelder@chinadailyusa.com