Western media obsession with macro figures is obscuring the giant leaps Chinese companies are making overseas
Despite 2016 starting with a continuation of relatively negative economic news, it is surprising that reports of Chinese company takeovers of totemic international companies and their brands have received so little media coverage in the West.
The widespread coverage of China's latest GDP figures - 6.8 percent in the fourth quarter of 2015 from a year earlier, down from 6.9 percent in the third quarter and the weakest pace of expansion since the first quarter of 2009 - and other supposedly informative macro indicators such as the purchasing managers index, which has dipped below 50 in recent months, is particularly disappointing given almost universal acceptance that modernization of emerging market economies and their business practices and culture go hand in hand with internationalization.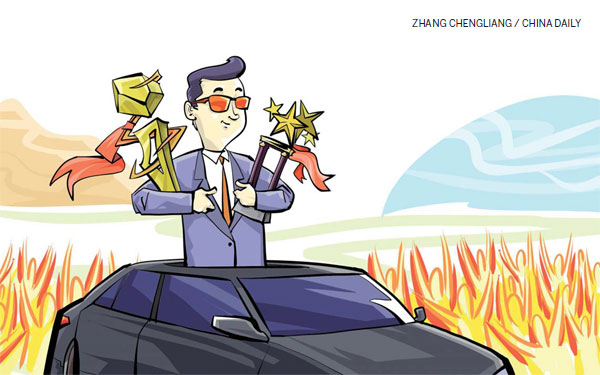 It is, therefore, of critical importance that Chinese companies continue to expand internationally, and that this expansion involves more and more overseas markets and a multitude of Chinese companies from a wide variety of industrial sectors.
So far this year, Chinese companies have not disappointed: There have been three major international takeovers in only the first few weeks of January.
Most impressive of these is the audacious move by household appliance manufacturer Haier to acquire General Electric's appliance unit for a staggering $5.4 billion. The takeover signifies clear strategic intent on Haier's part to conquer markets both East and West.
Crucially, this deal allows Haier to use the GE brand and all aspects of the brand identity for its appliances for 40 years.
Undoubtedly, Haier will now have a golden opportunity to learn from GE's global success. GE's advanced manufacturing technology and impressive brand building provide major learning opportunities that should enable Haier to emulate GE's global presence in the years to come.
Media coverage should also highlight the fact that Haier appears to have outbid others to secure this takeover, and in so doing catapult past Electrolux and other rivals in the US market. Haier now has its sights firmly on US market leader Whirlpool.
Then there is the takeover of German manufacturing giant KraussMaffei for a not inconsiderable sum of $1 billion. This stands as one of the largest takeovers by a Chinese company of a world renowned German industrial leader. A consortium of Chinese companies appears to be behind this deal, including China National Chemical Corp. This is also another good sign, where Chinese companies, in their quest for the international expansion that will accelerate their modernization, accept the need for working in clusters to achieve the critical mass often necessary to make that quantum leap in development and progress.
Clearly, Chinese companies are targeting takeovers that present long-term learning and strategic re-positioning opportunities, and the KraussMaffei acquisition is yet another example. The KraussMaffei Group is widely recognized as one of the leading producers worldwide of machines and systems for the production and processing of goods such as plastic and rubber.
That has followed by the news that Chinese conglomerate Dalian Wanda had reached an agreement to take ownership of Hollywood-based Legendary Entertainment for $3.5 billion. This is not only the largest Hollywood takeover to date by a Chinese company, it is also one of the most sizeable deals for which a cash payment will be used to effect transfer of ownership.
Despite the size and significance of these three most recent deals, this Chinese takeover activity should not be viewed in isolation. Instead, much more media coverage of this growing trend is needed in order to present a far more balanced and insightful picture of the real Chinese economy.
In recent years, many of the world's most famous brands have been acquired by hungry band of Chinese companies. Just a few examples of this trend are Pirelli, Volvo, Ferretti and Ferragamo.
It is important to appreciate that this trend is set not just to continue but probably grow. Many commentators regularly refer to overseas takeovers by Chinese companies as the driving force of the global M&A market.
The Belt and Road Initiative and the launch of the Asian Infrastructure Investment Bank will only serve to assist Chinese companies in their international takeover endeavors.
The Chinese government's determination to push through reforms in the state-owned enterprise sector will also no doubt lead to more overseas takeover activity. Chinese SOEs, in their quest to adapt to a more market-oriented business culture and competitive markets, will no doubt view international takeovers as an excellent learning opportunity.
Of course, growth via acquisition is fraught with difficulties and challenges, which is highlighted perfectly by the six out of 10 failure rate. But what is most impressive about the majority of the Chinese takeovers in recent years is the level of "strategic fit": Takeover targets appear to offer complementary products, markets and skills, and all have a string of successful, global brands.
It also appears clear that Chinese companies appear much better equipped to manage the often complex process of post-acquisition integration. Talented professionals are retained and a blend of styles and cultural backgrounds now often features in the newly formed organization.
Quite simply, it is abundantly clear that Chinese companies are pursuing growth via international brand takeover not for some sort of short-term financial fix, but as a key plank in their long-term, global brand building process.
Let's hope we will see more media coverage in this area and not just the wholly simplistic presentation of a few macro economic indicators such as quarterly GDP figures.
In summary, the state of the Chinese economy is most accurately assessed by the extent and speed of the modernization of Chinese industry, and a key indicator here is overseas company and brand acquisition. Expect more, and soon.
The author is a visiting professor at the University of International Business and Economics in Beijing and a senior lecturer on marketing at Southampton Solent University's School of Business. The views do not necessarily reflect those of China Daily.