Cancer clinic reaches out to China
The University of Texas MD Anderson Proton Therapy Center announced on Tuesday that it has partnered with China's Concord Medical Services Holdings Ltd to establish a China referral office in Beijing.
The office will be dedicated to providing free services to Chinese patients who are seeking proton therapy with MD Anderson's application and treatment process. It aims to help Chinese patients overcome the distance and language barriers and provide them with the best medical experience available.
Concord Medical, which is listed on the New York Stock Exchange, began working with MD Anderson PTC in 2012, according to Adam Sun, CIO at Concord Medical. The company acquired 19.98 percent of MD Anderson PTC - Houston Management, LP (PTCHM) shares in 2012 and gained a controlling interest in August of last year by purchasing additional shares from a general partner.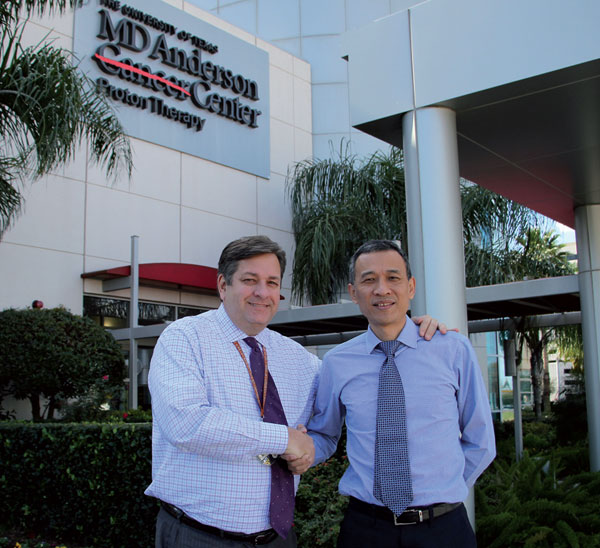 John Styles (left), CEO at MD Anderson Proton Therapy Center, shakes hands with Adam Sun, CIO at Concord Medical Services Holdings, after signing an agreement to open its China Referral Office on Tuesday in Houston. May Zhou / China Daily
This makes Concord Medical the second-largest shareholder of MD Anderson PTC, where the internationally acclaimed MD Anderson Cancer Center remains to be the majority shareholder with a 51 percent interest. Concord Medical has appointed Sun as chairman of the board of directors at PTCHM.
According to Matthew Palmer, director of proton therapy development at MD Anderson PTC, proton therapy is an advanced type of radiation treatment using a beam of protons to deliver radiation directly to the tumor, destroying cancer cells while sparing healthy tissue. It is primarily used to treat cancers in the head and neck, brain and prostate, as well as pediatric cancers.
Entering its 10th year of operation, MD Anderson PTC treats 800 patients a year on average. About 10 percent are international patients from more than 200 countries, and close to 20 patients came from China in 2015, said Palmer.
"Three years of working together has proved that the partnership is not only economically sound but also benefits Chinese cancer patients tremendously," Sun said. "As one of the most advanced radiotherapy technologies, proton therapy has significant advantages in local control rates, secondary reactions, and decrease of the long-term side effects.
"We hope to expand our circle of influence, help more patients by establishing the referral center, and provide the best quality of life to cancer patients," said Sun.
According to Sun, the average five-year survival rate for Chinese cancer patients is over 30 percent, much lower than the US average of over 70 percent. China's cancer patients number 4 million, and the demand for quality cancer treatment is high.
The Texas Medical Center, especially the MD Anderson Cancer Center, has seen an increasing number of Chinese cancer patients seeking treatment in recent years. Getting to Houston, however, has proved daunting to many.
"The referral office will be led by Concord Medical's vice-president Fu Leizhu, and will be staffed by numerous clinical doctors, nurses, medical professionals, and other professionals," said Sun. "We hope we can help Chinese cancer patients benefit from MD Anderson Cancer Center's advanced medical services and research achievements."
"Our plan is to open the office with Concord in China to provide a storefront directly to patients," said John Styles, CEO at MD Anderson PTC. "We hope to make it easier for patients by bundling travel, lodging and consultation together in China."
Styles said "it makes sense strategically to have Concord become an owner because Chinese cancer patients can certainly benefit from proton beam technology. There have been some announcements of opening proton therapy centers in China but not a lot of treatment available in China.
"In some areas in China, head and neck cancers are much more rampant than in the US. Through Concord, we hope to be able to help to provide this therapy to Chinese patients," he said.
mayzhou@chinadailyusa.com
(China Daily USA 01/21/2016 page2)