Sharp Sharapova shines
Maria Sharapova on Wednesday said she expects to be playing several more years in her quest for Grand Slam glory after sweeping past Aliaksandra Sasnovich and into the third round of the Australian Open.
The 28-year-old Russian shook off any early-season rust in the opening round and continued her impressive form at the Open, crushing the 105th-ranked Belarusian 6-2, 6-1 at Rod Laver Arena.
A winner here in 2008 and a three-time runner-up, she was always heavily favored, although the departure of second seed Simona Halep on Tuesday showed there are no guarantees.
The win keeps five-time Grand Slam champion Sharapova on track for a potential last-eight clash against her nemesis, Serena Williams, who beat her in the final last year and has won all their matches since 2004.
"It's great to be back on this court after such a good run (to the final) last year," said Sharapova.
"It was an opponent I had never faced before, which is always tricky and I'm happy I got there."
Sharapova, the world's highest paid female athlete last year, has been a fixture on the tour since 2002.
Despite now being a major force in the business world with a series of successful ventures, any talk of retirement is dismissed with her focus still firmly on winning more Grand Slams.
"When I was in my late teens, I probably didn't think that I'd be playing in my late 20s. Here I am at 28, and feeling like I still have many more years ahead of me," she said.
"I think your perspective changes; the game also develops and you just have a different attitude about it."
In her 13th appearance at Melbourne Park, the fifth seed was in the zone from her first service game against Sasnovich, which she comfortably held before a long forehand from her opponent handed the Russian the first break of the day.
Sharapova raced to a 4-0 lead as the Belarusian, playing her first Australian Open, struggled to counter her powerful groundstrokes.
But as Sharapova served for 5-0, Sasnovich started finding her range in returning serve and a misjudged forehand from the Russian allowed her back into the set at 1-4.
Sharapova double-faulted on set point as the nerves jangled and her 21-year-old opponent made the most of it with some quality baseline rallies helping her pull back another game.
But her service game again let her down and Sharapova capitalized to secure the set in 38 minutes.
Ultimately, the Russian's big-match experience paid off and she raced to victory as Sasnovich's confidence waned and errors crept in.
"Somebody again I haven't faced before, which is quite rare, but I felt like her game was a little bit unpredictable," said Sharapova.
"I had to make some adjustments. She came up with a few good shots and a few errors, some great big first serves and some shorter ones. So I think for me it was really about just adjusting my game."
She next plays American Lauren Davis with her early trouble-free performances a confidence boost after her late 2015 season was wrecked by injuries.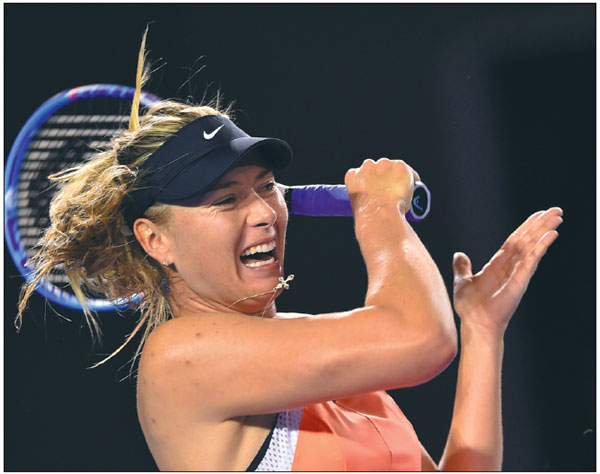 Maria Sharapova plays a forehand return during her victory over Aliaksandra Sasnovich of Belarus at the Australian Open in Melbourne on Wednesday. Peter Parks / AFP