Visiting Warriors hand Cleveland lopsided beating
Stephen Curry did not smell champagne. Blood was in the air.
Curry scored 35 points in three quarters, Andre Iguodala added 20 and Golden State returned to the arena where it won the NBA championship last season and embarrassed the Cleveland Cavaliers 132-98 on Monday night.
The Warriors built a 30-point lead in the first half, pushed their advantage to 43 after halftime and bounced back from a shocking loss in Detroit over the weekend by winning their fifth straight over Cleveland.
Only a late flurry of points helped the Cavs avoid their worst home loss in franchise history.
"They did what they wanted," LeBron James said.
Curry made seven 3-pointers - his last put the Warriors ahead by 40 late in the third quarter - and the reigning league MVP seemed right at home in Quicken Loans Arena, where the Warriors clinched their first title since 1975 last June. On Sunday, Curry said he hoped the visitor's locker room "still smells a little bit like champagne".
That aroma had long dissipated, but the Warriors looked thirsty for more bubbly.
Curry downplayed his champagne boast.
"The last time I was there we had a trophy, we had champagne and we had goggles," Curry said, recalling last season's Game 6. "We had a good time."
With Curry leading the charge, the Warriors overwhelmed the Cavs, who lost at Golden State 89-83 on Christmas Day and could do little to stop the defending champions.
James scored 16 for Cleveland, which just went 5-1 on its longest road trip this season. And like last season's Finals, James did not have much help. Kyrie Irving had eight points on 3-of-11 shooting and Kevin Love had three points in 21 forgettable minutes.
"Against the top teams you want to play well and we haven't done that. We're 0-3," James said of Cleveland's record against Golden State and San Antonio, the West's top powers.
"Tonight was an example of how far we have to go to win a championship."
Even though Cleveland is healthier now than in December, an expected battle between two of the league's best teams never materialized. This one belonged to Golden State from beginning to end.
A frustrating night for the Cavs bubbled over in the third quarter when J.R. Smith lowered his shoulder and charged into Harrison Barnes, flattening the Warriors forward. Smith, who arrived at the arena less than an hour before tipoff, was called for a Flagrant 2 foul and ejected.
Cavs coach David Blatt said he was not aware of Smith's tardiness.
"If that's so, it's not a good thing for sure," Blatt said.
Blatt took responsibility for his team not being prepared.
"We just got beat down," he said.
Smith was gone when Cleveland's locker room opened for reporters.
Draymond Green added 16 points, 10 assists and seven rebounds for the Warriors, who rested their starters in the fourth.
Curry quickly reminded an amped-up Cleveland crowd what he did to the Cavs last summer by burying a 3-pointer on his first shot. He made three more long-range shots in the first quarter while the Warriors opened a 34-21 lead.
Golden State was just warming up.
Green's 3-pointer put the Warriors up by 16, and Curry scored a three-point play to give Golden State a 23-point lead.
On Cleveland's next possession, James was backing down in the lane when Curry came up from behind, stripped the ball and went the length of the floor for an easy layup to make it 57-32.
"They definitely played like champions," Irving said.
Tip-ins
Warriors: Interim coach Luke Walton has rarely seen his team play better. "The first three quarters, that's who we know we can be," Walton said. "They were absolutely phenomenal. We can't really ask to play much better than that." ... Golden State has won nine of the past 11 in Cleveland ... The Warriors snapped a two-game road losing streak and improved to 38-4 overall.
Cavaliers: James remains non-committal about playing for the US men's Olympic team in Rio this summer. James, Irving and Love were among 30 finalists chosen to try out. "I'm not any inch closer to playing or not any inch closer to not playing," said James, who has won two gold medals ... Cleveland's worst home loss came against Chicago in 2012, a 39-point drubbing.
James and Steph head Olympic hopefuls
NBA superstars LeBron James and Stephen Curry were named to a 30-man provisional squad on Monday, from which the final US Olympic basketball team will be chosen.
Curry was one of five players from the NBA champion Golden State Warriors named to the squad, joining Klay Thompson, Draymond Green, Harrison Barnes and Andre Iguodala.
Cleveland Cavaliers star James is a three-time Olympic medalist aiming to head to Rio de Janeiro in August for a fourth Games.
The final roster will be whittled down to 12 later this year.
"Obviously selecting the official roster of 12 players for the Olympics in 2016 will be a very, very difficult process," said USA Basketball chairman Jerry Colangelo, managing director of the US men's national team since 2005.
"As has been the case with past teams, the goal once again is to select the very best team possible to represent the United States.
"The depth of talent that exists in the national team program is extraordinary. Repeating as gold medalists at the 2016 Olympics will not be easy, but we feel confident that we have 30 finalists who offer amazing abilities and special versatility."
The 30 players represent 17 different NBA teams, with the Warriors leading with five while the Cavaliers and Clippers each feature three players.
Retiring Los Angeles Lakers guard Kobe Bryant formally withdrew from consideration last week, saying he wanted to free up space for the next generation of US players.
"These are the guys who deserve the spots in Rio. These are the guys who people need to watch and root for," said Bryant, a member of gold medal winning teams in 2008 and 2012.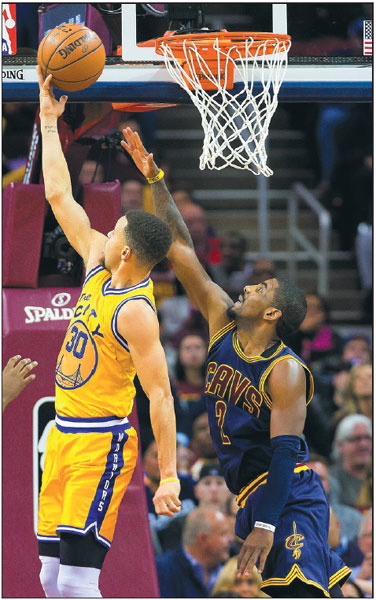 Stephen Curry of the Golden State Warriors shoots over Kyrie Irving of the Cleveland Cavaliers during the second half at Quicken Loans Arena in Cleveland on Monday. The Warriors trounced the Cavaliers 13298. Jason Miller / Getty Images / AFP