PLA enthusiasts develop a big appetite for soldiers' rations
Demand from Chinese military enthusiasts is spurring food producers and online vendors to name-drop the People's Liberation Army.
In supermarkets in Beijing, consumers can find several flavors of canned pork, each saying it was produced by a former PLA-owned food factory.
"The PLA is still our biggest buyer. The products we sell on the market are as good as the ones we provide to the military," said a saleswoman at the Qinhuangdao Ocean Food Factory in Hebei province, which was the PLA No 4003 Factory before it was transferred to the local State-owned assets management authority.
She said the company promotes the fact that it once belonged to the PLA to tell consumers that its products are good quality. It is well known that the military requires its suppliers to make sure their products meet the strictest standards, she said.
On taobao.com, a number of stores sell foods claimed to be consumed by the military.
A 30-year-old military enthusiast, who asked to be identified as Xiao Li, said military foods play an important role for Chinese military enthusiasts. It is illegal to buy or sell authentic camouflage uniforms, guns and other military products, but authentic food is more easily available.
Some of the foods produced by military factories are sold into commercial markets, while some find their way into the market from military warehouses through lapses of supervision, Xiao said.
"No matter whether the foods are labeled with military or commercial standards, they are the same quality," Xiao said.
A researcher at the PLA Logistics Academy in Beijing who wished not to be identified, said it is natural that military enthusiasts want to own equipment and supplies because they "love the PLA".
"Some military fans I know are avid for everything that is being used by PLA members, and they regularly hold events where they wear old PLA uniforms and display their collections," he said. "Some of them also buy military food from online stores, as this is the most convenient and cheapest method for them to experience a soldier's daily life."
The researcher said that a food contractor with the PLA would not normally be allowed to sell products to members of the public, but some might take advantage of loopholes in the logistics system.
"Military fans should be careful when they buy food or other equipment that sellers claim to be made for the PLA because some of those products may be counterfeit, and most fans have little knowledge how to distinguish fake from genuine," he noted.
Contact the writers at zhaolei@chinadaily.com.cn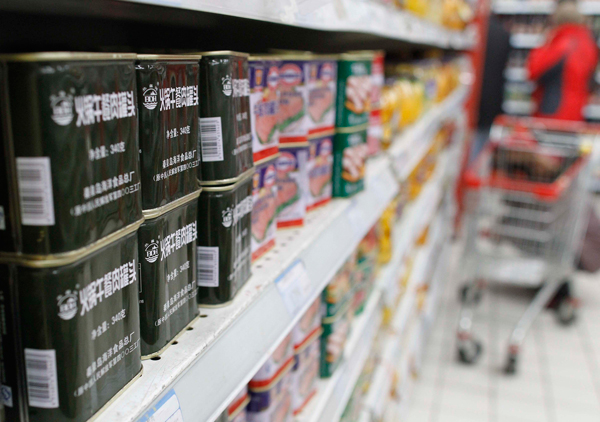 Canned pork produced by a PLA-owned food factory lines the shelves at a supermarket in Beijing on Friday. Zhu Xingxin / China Daily