Migrant worker rises to union leadership
A railway construction worker was elected vice-president of the country's national trade union, as the union sought to further extend its reach to similar workers.
Ju Xiaolin, 53, was elected as vice-president of the All-China Federation of Trade Unions on Sunday during a national conference of the union's executive members, the federation said.
It was the first time the union had ever elected a migrant worker as a vice-president.
The move came as the union sought to further extend its reach to migrant workers and beef up efforts to protect their interests amid the country's urbanization push.
Li Jianguo, president of the trade unions, said during the conference that the organization will continue to increase the number of migrant workers registered with the unions and improve the quality of service provided to them.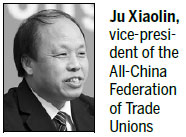 Ju is among the country's best-known labor figures. He took part in the construction of more than 10 electrical railway systems, according to the company's website.
Improvements he made to work methods helped the company save about 6 million yuan ($911,400), it said. Ju was awarded the National May 1 Labor Medal in recognition of his contributions. He was also a delegate to the 18th National Congress of the Communist Party of China.
Increasing outreach to migrant workers has topped the agenda of the federation in recent years. Wang Xiaofeng, a spokesman for the federation, said in October that the unions have launched a special campaign to attract migrant workers to unions in five sectors, including express delivery and construction programs.
"The migrant workers are very flexible in their employment ... and they generally have a very low recognition level about trade unions", which makes registration work difficult, he said.
Of the country's 274 million migrant workers, only 110 million had joined trade unions by the end of 2014, according to a report by Worker's Daily on Thursday.
xuwei@chinadaily.com.cn